3 Key Advantages of Jet Milling Product Trials
KT Brickman, Apr 12, 2023 3:15:54 PM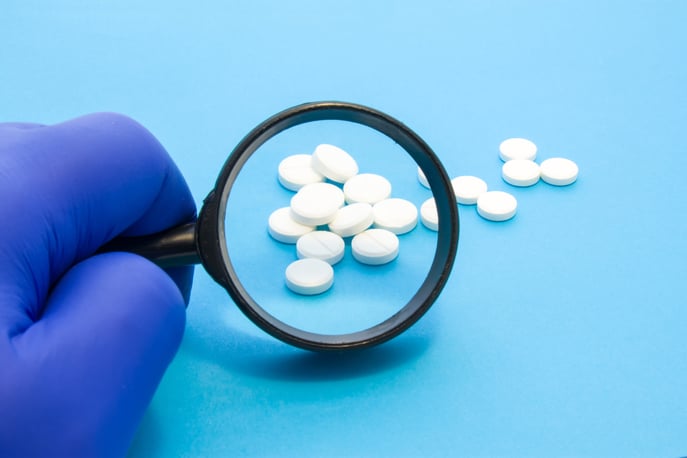 For many manufacturers, jet milling product trials are a time- and cost-effective way to better understand their raw feed materials. The purposes behind gaining these insights vary, and could be anything from verifying and documenting certain behaviors for future testing to confidently moving into full production.
Why jet milling product trials may be conducted is an individual business decision. However, what a customer gains from investing in the process with a toll processing partner such as CPS can prove invaluable.
1. Getting Answers to the Big Questions
Jet milling methods are common solutions for particle size reduction, but immediately taking a material to production based on the popularity of a technique may be presumptive. It could also be costly.
Product trials help answer the big questions that often weigh on decision makers, including:
Can the material even be jet milled?
Is the desired particle size achievable?
What characteristics support or inhibit product goals?
How easily does the material grind, and how might it impact processing rates?
In some cases, particularly with pharma applications, product trials need to be run in GMP conditions — a level above the technical grade cleaning and handling processes of a traditional trial.
The goal here is usually micro-analysis of the process. The material may ultimately be used in active ingredients or in products consumed during human clinical trials, making safety and regulatory compliance essential.
To that end, GMP-based product trials raise additional questions:
Is the jet mill capable of meeting project requirements?
How clean is the material post-jet milling?
Are any contaminants present in the material?
Has the toll processor followed all procedures necessary to ensure consistent usable product at small and large scale production?
One of the advantages of jet milling product trials is that the testing requires only small quantities of material to answer big questions. That's particularly good news for customers that may have limited material availability, or for startups that are testing materials to gain insights about competitive positioning and pricing.
2. Building — and Leveraging — a Knowledge Base
Other than in scenarios like the pharma example used above, product trials are not strictly a compliance requirement. They are exploratory by nature, and meant as a tool for gathering information to expand critical knowledge.
CPS encourages product trials when:
An unfamiliar raw feed is presented for toll processing
Limited information about the material is available from the customer or in the CPS research archives
No jet milling has been attempted on the material
Raw feed quantities are low enough to warrant processing on the trial mill instead of scaling to full production — an offering unique to CPS
The opposite also holds true. With our broad depth of milling expertise, CPS may already have sufficient data on the material. Or, the customer may share particular raw feed information that CPS can readily verify will work at production level. Other times, customers offer findings/results achieved by other toll processors on the material as proof of success. In any of these instances, a product trial could be waived. There is simply no need to invest the time and money to duplicate results.
3. Understanding a Toll Processor's Capabilities
Engaging with a toll processor for a jet milling product trial usually demonstrates practiced abilities in testing, reporting, and documentation. What's less common is finding a toll processor that possesses the intangible qualities that elevate capabilities to a higher standard of partnership.
CPS has earned the respect and business of customers in a range of industries because we support our expertise with the promise of:
Quality: There is no success for CPS without the success of our customers, and it all centers around our commitment to quality. We focus on passing quality protocols the first time, every time, and have a dedicated quality team in place to hold everyone accountable to each other and our customers
Collaboration: Meaningful dialogue and mutual agreements about expectations, requirements, materials, and other application-specific factors builds a foundation that eliminates undue work, time, and cost. Plus, bringing the CPS and customer teams together during the initial investigative stages of the process forges a partnership focused on common goals and timely results
Transparency: There are times when product trials simply aren't successful for any number of reasons. Product trials are just that — trials — and there are no guarantees. However, CPS doesn't accept less-than-favorable outcomes without due diligence. We clearly explain the issues to our customers, are honest about our perspectives on possible causes, and we seek alternate solutions. If there is a way, CPS will find it
Trustworthiness: Doing exactly what we say we're going to do with and on behalf of our customers in whatever form it takes — procedures, communication, next steps — is the hallmark of a CPS partnership. We take our work and our promises seriously, and have garnered the trust of our customers for more than two decades
Product trials are a precursor to the precision of full jet milling services. Learn more about the value and benefits jet milling can bring to your industry, business, and applications in our easy-reference eBook, Jet Milling Services Fundamentals: A Manufacturer's Guide. Click the button below to download your copy.