Where to Start in the CBD Market: Hemp Processing Services
Justin Klinger, Aug 12, 2021 9:51:48 AM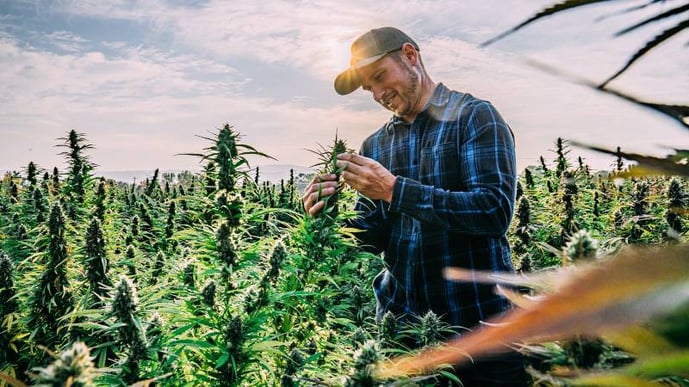 The U.S. hemp market appears to be in what experts call a "rebalancing" after the 2018 Farm Bill explicitly legalized the cultivation of industrial hemp and called for the U.S. Department of Agriculture (USDA) to establish a regulatory framework for the budding U.S. hemp industry.
The current surplus of hemp biomass may come as a surprise, since the regulated cultivation of hemp is so new.
What happened?
In 2019, farmers rushed to license acreage for hemp production — before a robust infrastructure for processing, custom extraction, and marketing of CBD and hemp oil was ready.
Federal, state, and tribal laws over the possession and sale of hemp-derived products can be complex, and in spite of industrial hemp's federal status, the U.S. Food and Drug Administration (FDA) has issued warning letters to companies that have marketed and labeled CBD products suggesting them as cures, to treat diseases, or for therapeutic uses.
The result of all this regulatory and market flux is far fewer growers seeking state, tribal, or USDA licensure in 2021.
Many producers exploring whether and how to start a CBD oil business are asking if it's already too late to get into the CBD market. Or is it still too early? When will industrial hemp extraction arrive at its Goldilocks moment?
When creating a business plan that answers these questions, one critical factor any CBD producer needs for success is clear: a reliable custom hemp processing team, complete with experts in botanical extraction, molecular isolation, analytical testing, and all the CBD processing services needed to go from hemp biomass to blended, bottled products ready for consumers.
Working with a toll processor can help CBD and hemp extract brands get off the ground by eliminating the risk and costs associated with major capital investments in a hemp processing facility. The costs of finding and hiring experts in extraction, formulation, and blending are also important to consider.
A custom toll processor that knows how to process hemp can help you break into the CBD and hemp extract market faster, easier, and with less risk.
Hemp Extraction Services Are in Demand
Hemp is one of the longest-cultivated plants in human history. It's been used as a raw material for textile fiber, paper production, inks and paints, food, fuels, and even polymers. Early blue jeans, a U.S. invention, were made from hemp — in fact, the word canvas is derived from cannabis. Hemp was grown for centuries in the U.S. until its production was banned in 1937 under the Marihuana Tax Act, which failed to differentiate between hemp and other types of cannabis plants.
The passing of the 2018 Farm Bill legalized the cultivation of hemp and established a threshold for delta-9-tetrahydrocannabinol, or THC, at 0.3% or less for hemp biomass. The bill authorized the USDA to create the U.S. Domestic Hemp Production Program, which went into effect on March 22, 2021, with regulations that established disposal and remediation methods for plants that exceed THC limits, and set out licensure requirements for hemp growers through state, tribal, or federal hemp programs.
According to Pew, about 580,000 outdoor acres of hemp were licensed in 2019. By mid-2021, just 107,000 outdoor acres of hemp were licensed, a drop of more than 80% from 2019. Meanwhile, some growers still have 2019 biomass in storage, waiting for prices to rise.
Perhaps the most important key needed to unlock the potential of the U.S. hemp market is custom contract hemp and CBD processing services. As the growing hemp industry slowly rolls out its infrastructure, a trusted hemp toll processor can help hemp extract and CBD producers get a head start.
Hemp Toll Processing Services: Keys to the CBD Market
Identifying a custom hemp processor you can trust to take your biomass to blended, bottled, consumer-ready products requires a little research. It's not enough to know a toll processor can perform extraction services.
To manufacture hemp extracts and CBD products that distinguish your brand from the competition, look for hemp extraction processing capabilities that support the highest quality products, the right certifications for your markets, automated bottling, and analytical testing to ensure full regulatory compliance and reporting:
Hemp extraction services — Look for capabilities and expertise in

supercritical and subcritical CO

2

extraction

for full-spectrum CBD extracts that are free of solvent residues. Ethanol extraction may also be an attractive option.
Decarboxylation — Decarbing hemp is an essential step for activating the desirable plant compounds.
Molecular isolation — CBD isolate is attractive to some consumers, as it's tasteless and odorless. Molecular isolation is also useful for eliminating unwanted compounds.
Pre-processing capabilities —

Milling

and drying of biomass may be needed before it can be extracted. Rely on one processor with all these capabilities to shorten timelines, reduce complexity and transit costs, and eliminate extra administrative burdens for your hemp processing projects.
Post-extraction capabilities — Look for a tolling partner that can support product R&D, formulation,

blending, and emulsifying

to diversify product offerings for a complete range of extracts, tinctures, salves, lotions, balms, and more.
Automated bottling — Not all processors have fully automated,

cGMP-certified liquid bottle filling

. Be sure to ask about dropper pipette capping capabilities, heating to bottle wax-based products, labeling, and final product packaging.
FSSC 22000, cGMP certification, and industry accreditations — An accredited quality system is your assurance that processes are documented and followed. For consumers with particular needs or demands, like certified organic or kosher formulations, you'll need

a processor that can provide proof

.
Comprehensive analytical testing with Emerald Test certification — Be certain your products fully conform with regulatory requirements and purity standards, and be able to provide the required documentation to authorities. In-house capabilities should include

high performance liquid chromatography (HPLC) and gas chromatography (GC) testing

and reporting.
Get Started in CBD and Hemp Extracts
The global market for CBD and industrial hemp extract is expected to increase at a compound annual growth rate of 51% until 2030 as demand for CBD and related products continues to rise. The legalization of industrial hemp may also spur more research into hemp extracts' potential health benefits.
For those looking to tap into the hemp extract market in its early days and exploring how to start a CBD business, working with an expert custom hemp processor is a must to minimize risk, optimize efficiencies, and maximize margins. Learn more about hemp extraction and other important aspects of botanical and herbal processing with our ebook, The Essential Guide to Herbal Processing. Just click the link below to get your copy.