CPS Employee Spotlight: KT Brickman
Justin Klinger, Oct 22, 2020 7:15:00 AM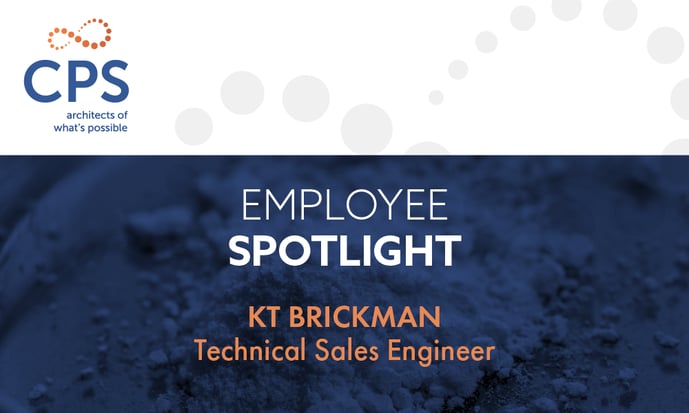 Our team of "Architects of What's Possible" provides outstanding service to our customers, from your first call through to final product delivery. We're proud of the work we do, and our team member profile series introduces you to the problem solvers, technical masters, and behind-the-scenes heroes who take on our customers' toughest particle reduction, blending, and processing challenges.
KT Brickman, Technical Sales Engineer
KT has been with CPS for more than 14 years, since graduating with a Bachelor's degree in material science and engineering from Lehigh University in 2006. She was our first technical sales engineer (TSE), and she's now part of a four-person team of TSEs. She works closely with test operators, and her primary focus is on milling processes.
On her arrival, KT worked with customers from inquiry to invoice. "I would handle everything from initial call to trials to final delivery," she said. "With our recent growth and addition of more support staff, I now get to focus on process trials and material challenges, and how particles behave in the mill."
She recalls her first few months at CPS as a growth trajectory. "I had so much to learn about micronizing, material handling, operating specialized equipment, and the hands-on work we do," she said. "I came with knowledge of the science and fundamentals, and I've been fortunate to have the opportunity to grow my material mastery by putting it into practice."
A Scientific Approach to Problem-Solving
KT and her colleagues run small-scale tests to determine whether materials are good candidates for various particle reduction techniques, and which processes will achieve customers' specifications. She uses these trials to set parameters for scaling up processes to run on production-size equipment — and then to run a production-scale trial to ensure specifications are met and processing rates optimized before committing to ongoing production work of larger volumes.
"I'm responsible for making sure that every detail is fully worked out before handing any job over to production," she said. Depending on the role of the material — which could be anything from early research to simply processing it for repackaging and sale — the trial-to-production timeline can be a couple weeks to years. "Whether it's a fast-moving project or something much earlier in the research phase, trust and collaboration are critical between customers and our team," KT said.
Lifelong On-the-Job Learning
"Even after more than 14 years on the job, one thing I love about my work at CPS is the variety," KT said. "Every job, whether for a long-time customer or a new one, brings unique challenges, and I have the satisfaction of knowing that my work helps somebody achieve a goal, and ends up touching a tremendous range of interesting products."
She referred specifically to a job for a cosmetics manufacturer that involved processing a material to achieve a certain particle size and morphology to attain a color. Learning how particle size and shape can influence a material's perceived color was a new experience.
"That job involved a visit to the customer's facility to get trained on color-matching, so we could duplicate some of their in-house assessments for our trials," she said. "I had to have my vision evaluated to be sure I had the ability to see the spectrum of color needed for the job."
Customer Satisfaction = Job Satisfaction
When asked about her favorite aspect of her role as a technical sales engineer, KT was quick to reply. "When a trial runs well, and I get to give a customer the results that they want. It's always great to be able to make a customer happy," she said.
How would she advise a new customer about what to do to ensure a smooth process with the best possible result? "Share as much information as possible," she said. "Milling data, reference samples, intended application or end use, whatever you can share. The more information you can share with us from the start of the job, the more efficient we can be on the path to achieving your goal. That can lower costs, too."
In her free time, KT enjoys playing with her two children ages 5 and 3, spending time with family, reading books, running, and physical fitness.
KT's engineering expertise and 14 years of on-the-job experience translates into process knowledge our customers rely on. Learn more about the basics of particle technology with our Particle Technology Glossary. Just click the button below to download. And if questions remain after you've had time to review, please reach out.