What's It Like to Work as a CPS Equipment Operator?
Justin Klinger, Nov 18, 2021 9:21:00 AM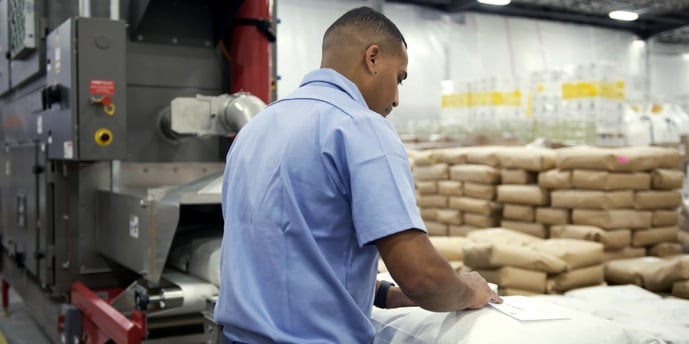 At Custom Processing Services, teamwork is integral to the success of every project, and our equipment operators are at the core of what we do.
Machine operators at CPS provide the right combination of brainpower and direct work to keep our processing lines humming and meet customer deadlines, material specifications, quality standards, documentation requirements, and more.
Successful machine operators are sticklers for safety and clear communicators, and they enjoy work that keeps them moving throughout their work shift. They're also committed to quality and take pride in finding and sharing ways to optimize process efficiencies on the job.
So, what's it like to operate CPS's wide array of milling, blending, drying, and extruding equipment, and what skills are most needed to thrive in this important role?
We spoke with Jason Roeder, a 17-year CPS employee and highly experienced machine operator. Here's what we learned.
Machine Operator at CPS: On-the-Job Learning is an Everyday Experience
At CPS, machine operators begin with several weeks of training, learning the ins and outs of the jet mills, mechanical mills, extruders, blenders, and material handling equipment like pallet jacks and fork trucks, as well as the protocols and documents required by our quality system. As new operators demonstrate their ability to safely and properly run each machine, they're gradually tasked with project work of their own.
Jason spends most of his shifts working on fluidized bed jet mills and mechanical classifier mills. He also has extensive experience running wet media mills, extrusion equipment, and more. Jason said it can take some time to operate the equipment with confidence, but it's definitely a skill set operators learn and continuously improve on with experience.
"It can be challenging at the beginning, getting used to pacing yourself between feeding raw material, collecting finished product, pulling quality samples, making fine adjustments, and documenting the details," Jason said. "But the team knows we work better when we work together. Operators help each other out, and operations trainers and production leads are there to serve as resources."
It's important to understand that every project is a little different, based on materials, quantities, customer specifications, packaging requirements, and even product end uses.
The Right Skills for the Job
Among the most important skills for a machine operator are math, reading, and communication, both written and verbal. A good understanding of mechanics and physical forces can be extra helpful when it comes to making machine adjustments to refine and optimize processing, especially for particle size reduction projects. And even geometry comes in handy for optimizing pallet arrangements when packaging and stacking finished products on pallets.
Machine interfaces are computerized, typically with touch screen controls. Clipboards and paper logs are also in use on the production floor, so operators need to be adept at written communication and the math skills needed to work out rates and adjust equipment settings. Quality systems require attention to detail and documentation, too.
But first and foremost is a value for safety. It may sound obvious, but particle size reduction means we're in the business of making often very fine powders from a wide range of materials.
So personal protective equipment (PPE), proper material handling, and safe operation of equipment are the first order of business on the production floor. PPE includes steel toe shoes, CPS-provided and laundered uniforms, respirators, and eye and ear protection. Some project assignments can require additional PPE, such as forced-air respirators or disposable protective coveralls to shield operators or prevent contamination of highly sensitive products.
A Team Mindset Matters
While machine operators complete a lot of their daily tasks independently, they are absolutely part of a larger team. According to Jason, communication skills are in demand at many points throughout the day, when:
Working closely with technical teams to make sure specifications and customer expectations are clear
Troubleshooting to resolve processing issues that can arise
Coordinating with material handlers to keep projects moving into and out of workstations on schedule
Requesting assistance on the floor when assistance is needed
A shared commitment to quality, accountability for workstation cleanliness, and an interest in continuous improvement are all factors that can add up to make a machine operator successful at CPS.
"It's gratifying to see new operators succeeding in the role when they embrace these core values," said Jason.
Work That Has an Impact
Knowing that the materials he processes find their way into products all around the world and into the everyday household items that make people's lives better lends meaning to Jason's daily grind.
"When you understand what we do, it's easy to see how our work is important to the supply chain, and to the world," he said.
Ready for the challenge? Equipment operators are on the job at all CPS locations. You can explore these opportunities and more on our Careers page. Apply today!