What Are the Different Types of Blenders in Pharmaceuticals, Food, and cGMP? Do They Matter?
Tim Wehr, May 6, 2021 9:15:00 AM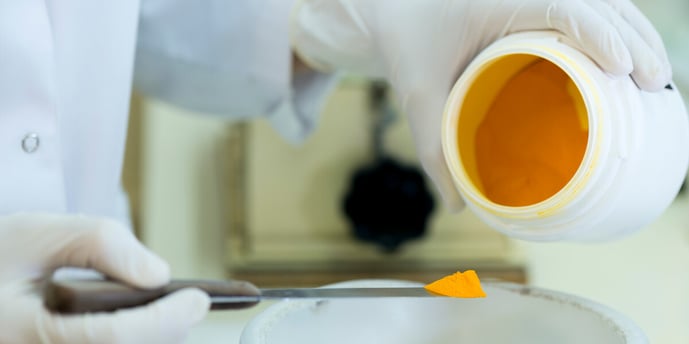 There's no disputing the importance of particle size in pharmaceutical preparations and food products. But homogeneity of blends is also vitally important.
When exploring capabilities at the start of a new blending project, it can be tempting to focus on a toll processor's range of different types of blenders as an indicator of their ability to produce a homogenous pharmaceutical blend.
But that's just not the way it works for dry blending in a cGMP setting.
Just like achieving target particle size distributions in pharmaceuticals and food, blending projects for cGMP applications often demand an extra level of material expertise and equipment mastery on the part of a toll processor's technical team. And that's true no matter the blender type or batch size.
When it comes mixing and blending dry powder ingredients, incorporating liquid ingredients into dry blends, and achieving homogenous mixtures of the right particle sizes and ratios, the number one capability to look for in a toll processor is, well, a blend — of scientific know-how and technical experience.
It takes an impressive level of expertise — plus a selection of double-ribbon blenders and precision accessory tools — to meet your cGMP dry blending challenge in the pharmaceutical and/or food industry.
Double-Ribbon Blender: The Gold Standard for Homogenous Dry Blending
Ribbon blenders are capable of quickly and efficiently mixing powdered and/or granulated dry ingredients into homogenous blends. In fact, they may deliver the best combination of relatively simple operation and efficient, high-speed, homogenous powder blending. For that reason, ribbon blenders are certainly an indispensable blending capability to expect.
In the blending trough, an agitator with two helical ribbons rotate through the material in opposing directions. This simple yet elegant design is tightly engineered to control force and motion in the blending trough. In expert hands, the right combination of blender speed and time results in a homogenous blend without attrition or degradation of constituent particles.
The size of the blender determines how big a batch can be, and volumes vary widely, from a few liters to thousands. It's important to know your toll processor has blending equipment that's appropriately sized for your project goals. If your blending project is 6,000 liters in volume and your toll processor's equipment size is much smaller, that can create complexities and obstacles that can slow down your project's completion.
Advanced blending requirements can also be achieved with a ribbon blender. By attaching a spray bar to the top of the blending chamber, atomized or fluid liquids can be incorporated into the powdered or granulated solids — from ratios that enable particles to be evenly coated with a liquid constituent up to and including ratios that make up a paste, rather than a powdered blend.
For projects that require specific temperature control, a jacketed blender can be a game-changing enhancement. Oil in the jacket can be heated or cooled. So, when working with materials that can degrade as temperatures rise, or even materials that could present a flammability hazard at higher temperatures, the oil jacket helps keep materials cool. In other projects, certain materials may need to be warmed in order to soften, prevent solidification, or to encourage proper blending.
Tumble Blender Applications and Advantages
Under certain circumstances, a different type of blender may be required. Dense materials, for example, or fragile materials that need to avoid shear forces, may call for an alternate blender type. In these cases, the diffusion mechanism of a tumble blender can offer a good option. In a tumble blender, particles cascade and roll more gently within the blending chamber.
Tumble blenders can also be fit with spray nozzle equipment to introduce liquids into a blend. Your toll processing team's material and technical experts can advise on equipment selection to meet your needs.
Beyond Blender Type: Successfully Blending GMP Projects
Most customers in food and pharmaceuticals place huge emphasis on formulation. From blending active pharmaceutical ingredients with the right excipients to creating dry food ingredient blends in the right ratios, manufacturers invest a great deal of time and resources in establishing their unique product formulations.
Taking that recipe into production, on the other hand, requires a uniquely different type of blending expertise.
When scaling up the blending of dry ingredients, it's essential to consider how different materials can interact with one another during the blending process. For example, abrasive ingredients can cause attrition, or the further reduction of other constituents into smaller particle sizes. It's also important to consider the effects of blending itself, and whether delicate or flammable ingredients could be degraded or affected by the heat produced when energy is introduced to the process.
Whether a blending project involves as few as two ingredients or as many as 20 or more, it's crucial to investigate not only a toll processor's blending equipment roster but also their track record for performance. That's because dry blending is not only a vital step in pharmaceutical and food manufacturing; it can also easily become a bottleneck in your supply chain.
In theory, production-scale blending should be a relatively straightforward process that includes:
Determining bulk densities of constituent materials
Determining the combined bulk density of the finished product
Calculating ratios based on density and batch size
Verifying blending time and speed, based on process documentation
In practice, there are variables that can impact outcomes, including flowability, moisture, agglomeration, attrition risk, temperature requirements, and extreme differences in material densities. An experienced toll processor knows the right questions to ask, and develops a blending process plan based on all the variables. For this reason, it's absolutely vital to share as much experiential, material, and process knowledge as possible with your technical team.
What to Expect When Working With a Toll Blending Partner
While blending is not typically a process that involves pilot runs or trials on small-scale equipment, it's important to understand that your first run of a formulation essentially serves as a feasibility trial. Because it's impossible to truly predict outcomes, expect to be charged based on time and labor, and for your toll manufacturer to gather processing data and use the information on future projects.
While material characteristics, number of constituent ingredients, and other factors can account for time and costs, the greatest influencers are packaging format at receiving, and final packaging format. While an expert toll processor won't shy away from any final packaging format, if cost savings is the goal, remember: bigger is better.
Why? Consider the time and labor required to hang a super sack above blending equipment, versus individually opening and pouring a shipment's worth of 5-gallon pails. The same goes for tapping out; it's simply faster and easier to handle larger formats — and that difference impacts the price you can expect to pay. Services such as screening for particle size in a final pharmaceutical blend can add significant value; they also add to overall project costs.
But cost isn't the only consideration when collaborating with a toll manufacturer for GMP blending. Timing can be incredibly important, especially in the context of your manufacturing supply chain. Food, nutraceuticals, pharmaceuticals, personal care, and other GMP-related industries are growing, and so are the demands on toll processors for milling, drying, blending, and more. So plan ahead and strive to communicate openly with your toll processing team.
And before you select a tolling partner for your food and pharmaceutical blending needs, be sure to download our guide, Milling Methods: Food and Pharma Guide. It helps you structure and evaluate the important aspects of choosing a toll manufacturer you can trust, from equipment to process and quality control. Just click the link below to download the guide.