Top 8 Benefits of Working With a Toll Processor or Contract Manufacturer
Justin Klinger, May 12, 2022 11:28:00 AM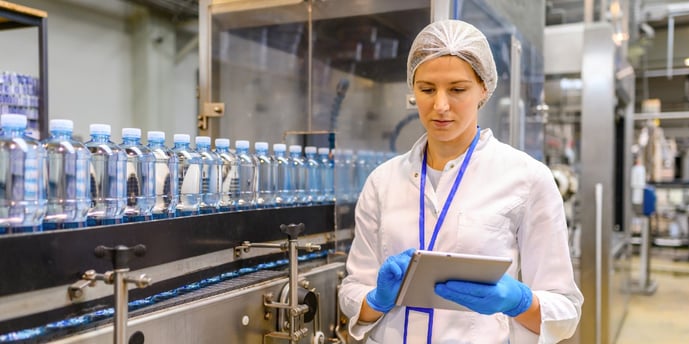 Manufacturers everywhere face an increasingly complex and vulnerable supply chain, rising energy prices, widespread worker shortages, and countless other uncertainties that can disrupt production and hobble operations.
Enterprising business leaders are always in search of ways to make the most of their resources. Toll processing and contract manufacturing companies can be important players in a resilient, flexible production ecosystem.
Contract manufacturers and toll processors are often referred to interchangeably, even though there are important distinctions between them. We'll get to those, but first, here are a few key objectives customers can achieve by using contract manufacturing and toll processing services in their production:
Control overhead costs
Improve manufacturing flexibility
Scale up production fast
Address labor shortages and costs
Ensure consistent product quality
Access scientific and technical expertise
Utilize top-of-the-line equipment and technology
Streamline

supply chain and inventory management
Breaking Down 8 Major Benefits of Outsourcing Production
Every company has its own reasons for paying another company to produce a good or process a material. Startup brands often begin without their own manufacturing facilities, for example. In other cases, companies have a sudden need to increase production volumes, access equipment they don't have in house, or make up for capacity when a key line or machine goes down. But one thing they have in common is this: they've discovered the benefits of a close relationship with this outside resource.
1. Control Overhead Costs
High-end production equipment, the space to operate it, depreciation, maintenance, permitting, insurance, utilities, etc., all add up quickly and can become difficult to control, and that chips away at profitability. Outsourcing to a contract manufacturer or toll processor reduces the variability of those costs, which can streamline budgeting.
2. Improve Manufacturing Flexibility
Adding new products, making changes to processes, or downsizing to manage costs can be excruciatingly complex in a manufacturing environment. Relying on an outsourcing partner eliminates concerns about the costs of real estate, adding new equipment or trying to sell unused machinery, paying leases for empty buildings, and more.
3. Scale Up Production Fast
Sometimes, it's as much about time as it is about money. Meeting a spike in demand or catching up after a supply chain hiccup caused a raw material shortage can create challenges that can ripple out through your entire manufacturing process. But when you have a third-party partner on standby, you can rely on backup redundancies to meet those needs much faster than you could by struggling to add a line or a shift in your own facilities.
4. Address Labor Shortages and Costs
It's a tough labor market, and many manufacturers struggle to find high quality employees to keep production lines running. It can be an expensive and time-consuming process to recruit and hire, and it can sometimes be just as hard to predict whether those new hires will stay on long enough to become profitable contributors. In the meantime, you still need to address demand for your products, and that's where your outsourcing partners come in.
5. Ensure Consistent Product Quality
Companies that work closely with their toll processor or contract manufacturer maintain long-term relationships because they know they can rely on them to meet or exceed the brand standard. And that's because reputable service providers implement formal quality management systems. That strict quality control also allows service providers to achieve certifications (like CGMP, organic, kosher, and more) that may be required, or that can add value for target consumers.
6. Access Scientific and Technical Expertise
Outsourcing partners provide a lot more value than equipment, facilities, and labor. They staff educated, experienced professionals in material science and engineering who work closely with equipment operators to optimize production. They're always keeping a scientific eye on processes to identify efficiency improvement opportunities and quality enhancements.
So even when you have an in-house process that presents a challenge, you can confidently take it to your outside team for troubleshooting, because they understand your business and your products — and they have a stake in your success.
7. Utilize Top-of-the-Line Equipment and Technology
High-end equipment can be a major capital investment that often requires consistent (if not constant) use to deliver ROI. That can put advanced technology out of reach for many companies. But by outsourcing advanced processes to a toll processor, you can benefit from access to state-of-the-art processing equipment — and experienced experts maintaining and operating it — that you otherwise might not be able to afford.
8. Streamline Supply Chain and Inventory Management
When you've established a long-term relationship with a third party provider, you get the benefit of scheduling projects to fit your workflows and production demands. That can eliminate some of the costs associated with storage, monitoring, and material handling.
In fact, it may be worth a deeper conversation with your toll processing partner to discover whether they have capabilities for additional upstream or downstream processes you need to produce your products. You just might discover that a jet milling project and a blending project could be consolidated into one, saving you even more time and money and improving product sustainability.
Key Differences Between Contract & Toll Manufacturing Companies
Contract manufacturing and toll processing are both ways to outsource one or more manufacturing processes to an outside company, but the distinctions are important.
Using a contract manufacturer is a hands-off way for a business to produce its goods. The contract manufacturer is responsible for sourcing, purchasing, and acquiring raw materials, as well as production. The customer creates the formula and makes product specifications clear, it's up to the contract manufacturer to meet them, and they're paid for the finished products.
This approach certainly has its benefits, yet at the same time it opens the door for less scrupulous parties to use lower quality raw materials or other means to cut their own costs.
Toll processing, on the other hand, keeps the control over raw materials in the hands of the customer. If you work with a tolling partner, you procure and provide materials and product specifications to the toll processor. A tolling partner is paid a fee based on performing the agreed-upon processing steps and delivering a product that meets customer specifications.
So while using a contract manufacturer is more of a "set it and forget it" approach to production, toll processing can provide closer control over ingredients and deeper insights into raw materials, pricing, quality, and source changes. Working with a toll processor can enable you to more closely protect your product formulations. It can also allow you to precision target only the process steps you want to outsource.
Manufacturers across many industries use contract manufacturing and toll processing to support operations and continue meeting objectives, even in challenging times. You can learn more about the differences between partnering with a contract manufacturer and a tolling partner by downloading our free guide that compares the benefits. Click below to get your copy.