Top 5 Benefits of CO2 Extraction Services for Hemp & Botanicals
Justin Klinger, Jul 8, 2021 11:03:00 AM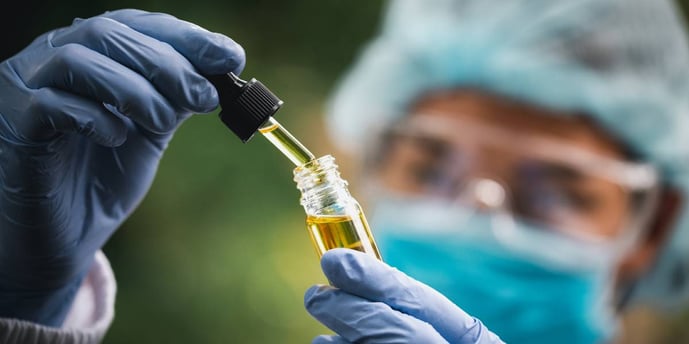 The market for CBD-rich industrial hemp is less established in the U.S. than it is for other agricultural crops. Many hemp farmers find themselves in search of simplified options for processing and commercializing their hemp biomass into their own branded hemp extract, THC-free CBD oil, and blended cannabis products.
Hemp and CBD extracts are enjoying growing consumer demand as ingredients within personal care, cosmetics, nutraceuticals, pet care, and other formulations.
By partnering with a toll processor for CO2 extraction services, hemp producers can take their hemp from freshly harvested biomass all the way to branded, shelf-ready, blended CBD extracts, distillates, and hemp oil products.
But before contracting with a toll manufacturer for CO2 hemp extraction services, hemp product manufacturers should be sure their tolling partner has the right hemp toll processing capabilities to meet all their needs, including:
Milling

capabilities for size reduction of hemp plant material

Drying

technologies compatible with hemp
CO2 extraction systems
Decarboxylation capabilities
Emerald Test certified

testing and analysis

, including high-performance liquid chromatography (HPLC) and gas chromatography (GC)
R&D formulation expertise
Blending capabilities

Bottling

, labeling, and final packaging
FDA-registered,

GMP-certified

facilities
Logistical services
And more
How Does Supercritical CO2 Extraction Work?
CO2 hemp extraction methods use carbon dioxide in a supercritical or subcritical state as a solvent for the extraction process.
First, the hemp biomass is harvested, cleaned, and tested to verify its botanical identity as the cannabis plant. It's also tested to ensure THC levels below the federally required threshold of 0.3%, and to exclude biomass that contains high levels of chemicals such as pesticides and herbicides.
Next, the plant material is processed to a specified particle size and moisture content and placed in an extraction vessel. Carbon dioxide is subjected to high pressure and specific temperatures. The pressure and temperature variations put the CO2 into a supercritical or subcritical state. It then flows through the biomass in the extraction chamber.
Supercritical CO2 pulls more compounds faster from the hemp biomass. But subcritical CO2 extraction is often used because it protects delicate essential oils and other sensitive, high-value plant compounds. As consumer preference increases for full-spectrum CBD products and cannabis concentrates, subcritical extractions are on the rise.
Certain food grade, GMP-compliant solvents' affinities with important compounds in hemp can also be used as a modifier to help the CO2 extraction process deliver a full spectrum hemp extract. The end result, after solvent recovery and evaporation of carbon dioxide, is a rich hemp crude.
This extract is ready for decarboxylation, post-processing, and blending into final hemp extract products.
What Are the Top 5 Benefits of CO2 Extraction Services?
1. Carbon dioxide extraction delivers a pure hemp extract.
In the health, nutraceutical, and personal care markets, consumers value product purity. CO2 extraction methods create hemp extracts and CBD products that deliver on purity promises by eliminating harmful solvent residues and reducing unwanted compounds in the finished product.
2. CO2 is a highly "tunable" solvent, enabling extraction experts to target specific, desirable botanical compounds.
Unlike hydrocarbon solvents, subcritical and supercritical CO2 can be fine-tuned by adjusting temperature and pressure to achieve variable density, viscosity, and surface tension. This makes processing quicker and more efficient while also targeting only the desirable compounds in the hemp biomass.
3. The high-quality CBD extract that comes from CO2 processing commands a premium.
As hemp growers make investments in high-quality seed and labor-intensive agricultural practices to produce the most CBD-rich botanicals possible, carbon dioxide processing's CBD isolation capability just makes sense to capture the fullest potential from top quality hemp biomass. After all, consumers purchase CBD products for their cannabidiol, other cannabinoids, and associated terpenes. A method that optimizes their extraction is good for the bottom line.
4. Carbon dioxide is recoverable and nontoxic, making it environmentally friendlier than other solvents, and a safer, nontoxic choice.
You may be wondering: Is CO2 extraction safe? The carbon dioxide used for hemp extraction is recovered, collected, and recycled, and it leaves behind no chemical solvent residue. This is not only an important consideration from an operational and environmental standpoint; it can also support specific "green" brand attributes that are often associated with hemp products.
5. The efficiency of CO2 extraction can eliminate some post-processing steps.
Speed to shelf can be a make-or-break factor in the success of branded hemp extract product lines. Carbon dioxide-based methods not only extract more botanical compounds faster, but they also eliminate the need for some post-processing steps. This gets your CBD extract into blends and final products — and on its way to the shelf — faster than other extraction methods, too.
And when your toll processing partner can provide testing and analysis, formulation, and blending, as well as bottling, packaging, and logistics, your high-value CBD products can quickly make their way to your consumers.
What Else You Should Know About CO2 Extraction Services?
Subcritical and supercritical CO2 extraction services can also be used to target and extract valuable essential oils, aromatics, and bioactive compounds in other botanical and herbal products such as lavender, vanilla, and many other florals, wood-based products, etc.
You can learn more about the important role a trusted tolling partner can play in processing and extracting valuable compounds from botanical and herbal biomass when you download our ebook, Processing of Herbal Raw Materials: An Essential Guide to Botanical & Herbal Extraction Processes. Click the link below to get your copy.