7 Top Food Processing Industry Trends in 2022
Justin Klinger, Oct 7, 2021 3:03:13 PM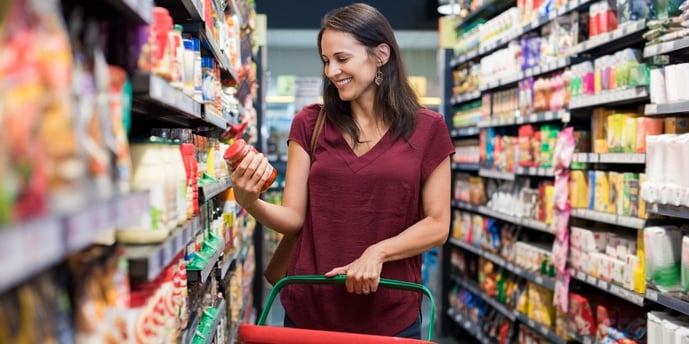 Food processing trends are always changing. New products and innovations are continuously driven by consumer demand, market conditions, technological advances, and much more.
Contract manufacturing companies can help food manufacturers bridge the gap between trends and their offerings while protecting the bottom line.
Consumer interest in health and wellness, sustainability, and product transparency remain high, but they're not the only thing people want from their food.
Flavor, convenience, and affordability will always remain vitally important.
Recent events have heightened consumers' attention to their food choices. A global pandemic, climate disasters, supply chain disruptions, and stay-at-home orders all amplified food trends that are expected to continue into the future. Trending food-related interests include:
Food safety
Clean labels
Functional foods and ingredients
Global flavors and novel combinations
Plant-based alternatives
Grain-free flours
Sustainability
Let's take a look at what's behind these currents in food manufacturing and consider the ways toll manufacturing food specialists can work with you to capitalize on evolving industry trends while optimizing efficiency and controlling costs.
1. Food Safety
Annually, the Centers for Disease Control and Prevention estimate that 31 known foodborne bacteria, viruses, molds, and parasites cause about 9 million illnesses… and another 37 million illnesses are likely caused by unspecified foodborne pathogens. Consumers are wary of product recalls of both fresh foods and staple ingredients like flour, peanut butter, spices, and even sugar.
Consumers are also concerned about contamination. Heavy metals such as arsenic, cadmium, lead, and mercury can find their way into finished products from sources that range from soil, air, or water pollution to process contamination. Pesticides, herbicides, fertilizers, and cleaning agents can all pose contamination hazards.
Before trusting a contract toll manufacturer to process food products, it's vital to verify that they hold the relevant certifications and accreditations, including current Good Manufacturing Practices (cGMP) guidelines for food, Food Safety System Certification 22000 (FSSC 22000), and Food Safety Modernization Act (FSMA). A partner with in-house testing and analytical capabilities can help you achieve quality control, product safety, and your production timelines all at once.
These certifications demonstrate that your contract food processor knows and practices safety guidelines and preventive controls to protect your consumers — and their trust in your brand.
2. Clean Labeling Expectations
Trust is also a driving force behind the clean label trend in foods and nutraceuticals. Consumers expect product recipes that use as few and simple ingredients as possible. They want clean label ingredients to be easy to pronounce, familiar, and come from plants and animals — rather than ingredients with lab-synthesized, artificial, or chemical-sounding names.
Meeting clean label expectations while addressing other consumer needs, like convenience and shelf-stability, can be challenging. But challenge drives innovation, and a toll processor's team of scientists and engineers typically has decades of material knowledge that, combined with your own team's experts, can create new possibilities for your formulations, recipes, and processes.
With advanced techniques in milling, blending, particle surface treatments and more, you can achieve your clean label goals without sacrificing important product attributes.
3. Functional Foods and Ingredients
You are what you eat.
That's how the saying goes, and it's also the idea behind functional food and nutraceutical ingredients. Many consumers have begun to look beyond the question of how foods taste and make them feel, and are looking at potential health benefits that specific food ingredients may deliver.
These health-conscious consumers look for functional additives that may include:
Prebiotics
Probiotics
Botanical and herbal ingredients, such as hemp extract
Vitamins and minerals
Added ingredients with potential antioxidant, anti-inflammatory, or immunity-supporting properties appeal to wellness-focused consumers. Within the larger landscape of food processing, nutraceuticals play an important role. Manufacturers of nutraceuticals — including dietary supplements, functional foods, and medicinal foods — aim to deliver specific nutrients or benefits to consumers.
A toll processor with extraction and distillation expertise can help you create distinctive recipes to meet consumer demand. Specialized particle reduction, blending, and dispersion methods can ensure your formulations perform optimally in use.
RELATED: Essential Guide to Herbal Processing
4. Global Flavors and Novel Combinations
International cuisines have long influenced food trends. The sustained time at home over the past two years might also inspire consumers to seek out more adventurous flavor profiles and combinations. Some current flavor trends include:
Complex, layered food flavor mash-ups including coffee, furikake, tamarind, za'atar, etc.
International flavors like wasabi, lychee, dragonfruit, and cherry blossom
Fruity sweets combined with smoky, savory flavors and heat from chiles
Milled spices such as sumac, garam masala, curries, and more
Fermented flavors like sauerkraut, miso, kombucha, and kefir
Floral and herbal essences for beverage and dessert flavors, like orange flower water, lavender, coriander, and jasmine
Once you've invested the R&D in formulating products, a toll processor can not only help you refine processes to maximize yields on premium ingredients; they'll also ensure consistency of quality, lot to lot, through validated quality and process standards. Expect your toll processor to welcome your quality audit.
5. Plant-based … Everything
Some experts have observed that the pandemic accelerated changes that were already happening, and consumer demand for more plant-based options fit in with this observation. Consumers with an appetite for wellness and nutrition, adventurous flavors, and sustainability can satisfy all three with a variety of plant-based foods, including:
Faux meats, jerky substitutes, and veggie burger options
Plant-based milk analogs made from nuts, seeds, legumes, and grains
Ingredients that include chickpea, cauliflower, jackfruit, hemp, flax, and more
Whether formulated for consumers with intolerances to dairy or meat, for ethical vegetarians or other dietary philosophies, or for those looking for something new, plant-based alternatives offer ways to incorporate novel ingredients and flavors.
Manufacturers rely on toll processors to ensure all product ingredients meet stringent specifications for characteristics like particle size, color, mouth feel, and more. Often, novel ingredients may require specialized processing capabilities and expertise. Before making the capital investment on equipment, it can pay to explore process options with a tolling partner.
6. Grain-free Flours
Many consumers want gluten-free options, both in ready-to-eat products and ingredients for home baking. Greater awareness of food allergies and intolerances, as well as the rise of low-carb diets, are encouraging manufacturers to develop new recipes to meet these demands.
Novel ingredients like legumes, vegetables such as cauliflower and beet, seeds, nuts, cassava, breadfruit, and process byproducts like okara and whey can all meet their greatest potential in recipes when dried, milled, and blended to exacting specifications under the guidance of an expert team. It takes experience and expertise to understand the role of milling and size reduction in food processing. And that expertise is also key to getting trend-focused products to shelf faster.
7. Sustainability: Climatarians Have to Eat, Too
Recent environmental events like wildfires, floods, and intense hurricane seasons — alongside the emergence of a zoonotic viral pandemic — have pushed some people to reflect on the ways their food choices may impact the environment for better or worse.
These consumers may choose local, seasonal offerings; eat fewer animal products; look for low-waste or recyclable packaging; and pay closer attention to a company's use of natural resources and products' carbon footprints.
Manufacturers that want to meet the demands of sustainability-focused consumers can benefit from increasing product yields from raw materials, optimizing processes for energy and resource consumption, and reducing freight miles by simplifying supply chains.
If you're relying on custom food processing services for milling, it can pay to investigate whether they can also provide upstream and downstream services such as drying, surface treatments, blending, extrusion, and even liquid bottling for products like beverages and nutraceuticals. The more you can depend on a single source for food processing services under one roof, the more optimization opportunities you may discover.
Go deeper to understand how particle technologies and processes can impact your final products when you read our Particle Technology Glossary. Click the link below to claim your copy.