How a Toll Processor Can Help You Launch Your GMP Regulated Brand
Justin Klinger, Oct 21, 2021 9:00:00 AM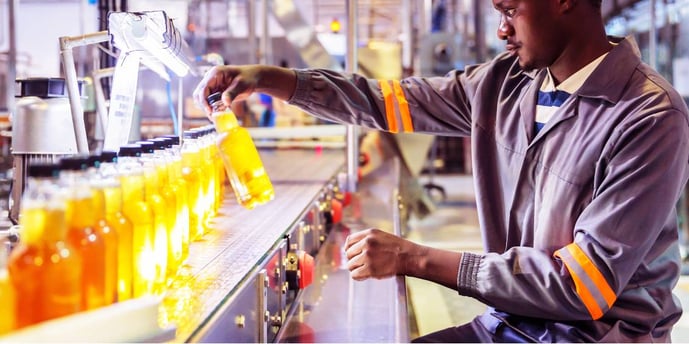 Entrepreneurs in the food, nutraceuticals, and supplement industries invest a lot of time, research, and capital in the process of turning great ideas into profitable products.
So it makes sense to support those investments with product development, production, and custom food processing services of a toll manufacturer to reduce capital costs, save time, and process raw materials while ensuring compliance with regulatory standards and GMP guidelines for food and pharmaceuticals.
Working with experts in GMP toll food manufacturing and pharmaceutical processing enables customers to focus on all the other aspects of creating products that meet consumer demand, meet profitability goals, and grow their brands.
Let's take a closer look at how what goes into launching a food, pharma, supplement, or botanical brand, and just how a toll food processor fits into the process.
Know What Your Customers Need & Expect
Successful consumer brands in areas such as hemp extract and CBD, nutraceuticals and nutritional supplements — and even sports beverages — don't just happen. They begin with market analysis to get a firm understanding of consumer needs and perceptions about:
Health concerns or issues
Key ingredients, including specific nutrients or botanical compounds such as vitamins, minerals, and herbal extracts
Where and how to purchase high quality products (online, in-store, clinical environments, in-home)
Whom to trust for information about new products (health practitioners, coaches, retailers)
Special interests, such as specialty certifications like

organic, kosher, and/or halal

Retail value and price points
And more
Really understanding who prospective customers are, where to find and communicate with them, and how to get your products into their hands is a major undertaking for an entrepreneurial startup.
In some cases, the target market is smaller and self-contained. For example, an agricultural tourism destination may produce crops, such as hemp, lavender, or other herbs. Creating botanical extracts from biomass grown on site for retail sale on site could create an additional revenue stream for a small business brand. Working with a toll manufacturer to process, extract, formulate, and even bottle and package these products can make it simple to develop this additional revenue source.
Evaluate the Competitive Landscape
It's important to understand how you'll differentiate your own food or supplement product from the competition — and to consider many aspects beyond retail pricing. It may be that a competitor uses an undesirable filler or product source. The right toll processor can help you overcome challenges and look for other options.
It could be that consumers want greater visibility and product transparency, and food and supplement manufacturers aren't providing the information they want on product labels and packaging. A tolling partner with independent testing, analysis, and reporting capabilities can provide certificates of analysis that help build consumer confidence. You could even give yourself an edge by choosing a more convenient product container.
It's absolutely vital to understand FDA regulations about not only manufacturing, but also marketing dietary supplements and food products. An experienced toll food processor knows how to handle all aspects of quality assurance, process documentation, preventing cross contamination, and other aspects of product handling under cGMP guidelines.
Source Your Raw Materials & Collaborate With a Trusted Toll Food Processor
Finding reliable and reputable suppliers for raw materials can be a challenge. Ensuring quality, especially for products that people will be consuming, is of the utmost importance. Working with a toll processor that has full in-house testing and analysis capabilities can provide the assurance you need that your suppliers are delivering exactly what you're paying for.
While supplements are regulated from a food safety perspective, the work you do with your toll manufacturer can help elevate your functional food or nutraceutical brand above the competition and build your reputation for quality. That's why it's vital to work with an experienced toll manufacturer for food and pharma, in a cGMP compliant facility.
The right food grade manufacturing toll manufacturer with GMP certification can help you meet nearly every need along the process from raw materials to finished, packaged food and supplement products, including:
Milling or grinding (including micronization and even nanonization)
R&D and product formulation
Blending (liquid or dry)
And more
And once your product has been developed, formulated, and manufactured, be sure to work closely with your label and packaging designer to ensure compliance with FDA's dietary supplement labeling requirements.
Choose the Right Packaging for Target Consumers
The right packaging does more than carry your product to your customer. It's key to protecting product integrity, making it easy to carry and consume, and projecting the quality of your brand.
Getting your carefully formulated and blended product into the right container can be tricky, especially for GMP regulated products. A toll processor that also offers value-added services like custom, fully automated liquid bottling can eliminate extra shipping costs and shorten production timelines by handling the job of contract bottling for your bulk liquid products. Formulations like botanical extracts and tinctures may require specialty dropper pipette caps, so be sure to ask about capping capabilities.
Certain wax-based blends such as balms or rubs can require temperature controls on bottling equipment. Alcohol-based tinctures may require a bottler that can provide an NFPA Class I electrical environment. Certain delicate oils may need bottling lines to be cooled… and certainly, any beverage or supplement product needs to be bottled with full assurances against cross-contamination. A GMP-certified contract liquid bottler is a must.
Final Product Shipping & Logistics
Downstream services like logistics and shipping can help any business streamline supply chains and delivery. That gets products to the shelf with less complexity, greater efficiency, and lower costs. And with smaller, entrepreneurial brands, this difference is even more important.
So when you investigate toll processors for your food and supplement production, be sure to ask about all their capabilities, from receiving to final shipping and logistics. It's important to remember, an experienced toll food manufacturer knows exactly what it takes to go from initial raw materials to fully realized, high quality, consumer-ready products.
Learn more about what's possible for your beverages or liquid supplements. Review our Visual Guide to Fully Automatic Bottle Filling and see how a GMP certified expert toll processor can handle nearly any liquid formulation in a wide range of container shapes at sizes. Click the link below to see it now.