How Food Particle Size Reduction and Toll Processors Impact Quality Control
Willow Slusser, Nov 30, 2022 2:37:22 PM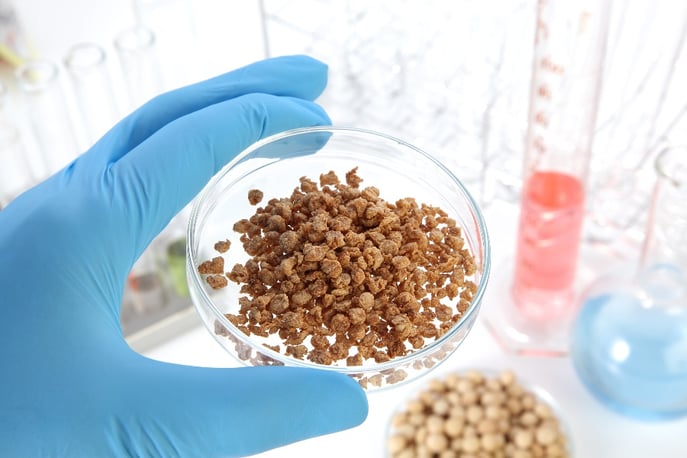 Food grade processing is all about consistent outcomes — a deceptively simple goal. Combining the correct ratios of multiple materials into a homogenous blend that meets customer and regulatory specifications requires close attention to detail and even closer attention to particle size.
3 Ways Food Particle Size Reduction Determines Ingredient Characteristics
During the production process, many food ingredients are in particulate form as powders, suspensions, or emulsions. How fine or coarse the particles are determines the ingredients' key characteristics, including:
Flowability: Bulk density in powders and viscosity in suspensions directly correlate to particle interactivity with equipment and each other, which dictates how well an ingredient can be pumped, mixed, or otherwise incorporated into a larger formulation


Stability: Uncontrolled or inaccurate particle sizes can cause emulsions such as milk to destabilize on the shelf and powdered foods to experience caking


Texture: There are specific expectations about food texture. Since particles as small as a few microns are detectable on the human tongue, miscalculating particle size could skew mouthfeel
Individually or in total, the ways that food particle size reduction impacts product quality is undeniable — as is the need for specialized experience in food grade processing.
How a Toll Processor Ensures and Protects Food Quality
Food grade processing is highly nuanced. The rigorous demands around food safety and regulatory compliance in addition to proper particle size reduction make each project unique, and the choice in toll processor incredibly important.
A toll processing partnership hinges on trust and consistency. A lack of one or the other — or both — simply doesn't comport with the need for exacting quality control in ingredient and formulation processing. Therefore, manufacturers must have assurances as to how a toll processor handles food grade processing.
A surefire way to gain those assurances and achieve high-quality outcomes is to work with a toll processor that can demonstrate specific alignment with food grade processing quality control. To do so requires:
Certifications: Current Good Manufacturing Practices (cGMP) is a threshold certification for toll processors offering food grade processing.

cGMP processing standards

are enforced by the FDA and dictate the exact systems and controls food industry suppliers must follow

In addition to cGMP, toll processors with a depth of experience in food processing typically hold other certifications. Among the most common are Food Safety Management Systems Certification (FSSC 22000) which verifies supplier compliance with food safety strategies.

Halal and Kosher certifications

ensure product alignment with certain cultural requirements



Facilities: Toll processors with

dedicated facilities for food grade processing

— including clean rooms, laboratories, and equipment — offer environments best suited for consistent cleanliness, safety, and food quality standards compliance


Equipment: To achieve particle size reduction to the degree necessary for the majority of food items makes jet milling an appropriate solution.

Fluid bed jet mills

offer exceptional particle size reduction in terms of fineness and distribution — both of which impact food ingredient characteristics

Likewise,

homogeneity in food blending

is directly related to food quality throughout toll processing and in the minds of consumers. A toll processor with a range of blenders also has a range of options for homogenous blends of dry or wet food ingredients and formulations
There are no shortcuts to quality. To think otherwise —, particularly in food grade processing — is to put a lot at risk. Is your toll processor up to the task? Find out using the Food & Pharma Guide to Jet Milling & Advanced Particle Size Reduction. Click the button below to download your copy now.