How to More Effectively Move Projects to a New Toll Processor
KT Brickman, Sep 9, 2021 10:03:04 AM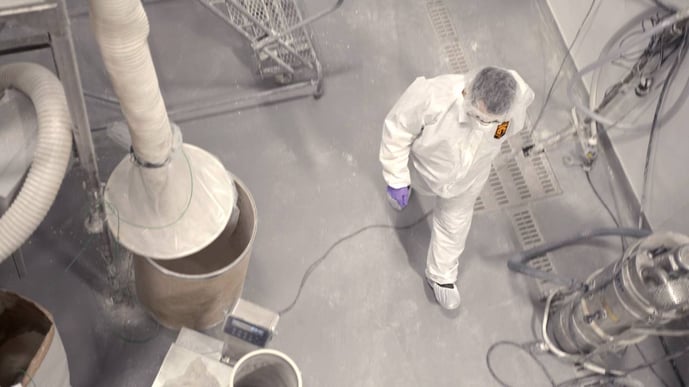 Relationships between customers and toll processors can span decades. For example, many CPS customers have been with us as long as we've been in the industry.
It can take years and many projects to cultivate trust and confidence in a tolling partner. And when you find a toll manufacturer that consistently delivers high-quality products, packaged and delivered to your expectations, it makes sense to maintain a long-term partnership.
But there are also plenty of reasons to consider a new toll processor.
Many issues can drive manufacturers to move projects to a new processor — whether to replace existing supply chain partners or to serve as a backup. Some of these challenges can include:
Quality control and consistency problems
Out-of-service equipment
Logistical challenges or failures
Rising costs
Unmet potential for improved efficiency
In this article, we'll explore the keys to successfully transferring a custom toll processing project to a new provider. With a little work and due diligence, you can achieve the target material specifications and production goals that made you look elsewhere in the first place.
Why Onboard Your Projects With a New Toll Processor?
It's not always a negative experience that drives manufacturers to seek out new toll processing relationships. You may learn that your current micronizer, for example, can also perform the dry blending and extrusion steps you need to formulate your product. The potential to improve efficiency by consolidating process steps with a single toll processor can save time and money while also reducing administrative burdens.
Or maybe a colleague in another department or division is enthusiastic about the quality, customer service, or access to expertise they get from their contract manufacturing partner. It may make good sense from an administrative perspective to consolidate vendor partners.
When the need arises to take project work to a new toll processor, it's important to know you're partnering with experts. But it's just as important to be sure you cover all the bases and do your part to ensure a smooth transition. If you've long relied on a single source for toll processing services, you might not realize the depth and volume of information that contribute to the success of your projects.
Eliminate Internal Obstacles
There are many variables that can complicate toll processing projects, from material conditions to equipment, but sometimes hiccups and hangups can originate on the customer side.
Plan to work closely with your own colleagues to eliminate obstacles that can slow the start of work on your material. Obstacles can be anything from a single change-averse individual in a key administrative or technical role to internal paperwork requirements for establishing a new vendor. If your company requires nondisclosure agreements, it's important to start the conversation early.
Inquire in advance about your own company's requirements for establishing new vendors, and provide a comprehensive to-do list to your sales or customer service representative. An experienced toll processor is unlikely to have trouble providing the documentation you need.
And look for a toll processor that has its own documented customer onboarding procedures that demonstrate they know how to anticipate your needs. They'll proactively address your requirements and get you established as a customer in their own internal business and customer management systems.
If you're happy with the work your toll processor does, you'll probably want to share their information with colleagues who may need processing services, too. Reach out to your sales or customer service representative for information detailing their capabilities. A self-serve slide show presentation or shareable brochure PDFs can go a long way to educate and reassure colleagues.
Ask About Quality Systems & Documentation
Quality management is key to consistent, repeatable, predictable outcomes, and establishing trust with your tolling partner depends on predictable quality. Every product should have its own specific process documentation. That quality document serves as the foundation for every project that moves through a toll processing facility.
Included in a Quality Document is every relevant project detail, including:
Safety Data Sheets for all materials
NDA requirements and/or related information covering material and process data
Initial raw material specifications, description, and relevant information
Testing and analytical requirements — processes, apparatus, parameters
Final product specifications — include a reference sample whenever possible
Packaging formats
Labeling requirements
Specific logistical needs
Specialty certifications or quality system requirements
Every project's quality documentation is a living document that serves as a single source of truth for every product's processing.
Any change in specifications, packaging, or any other detail needs to be clearly communicated to your sales or service representative. They can ensure it's recorded in your project's quality document — and the effects of those changes can cascade through every relevant process.
On-Site Facilities Visits
Meeting with a technical engineer or customer service representative at your new toll processor's facility can provide an opportunity to experience quality, cleanliness, and product protection in action. You can see the ways team members like product handlers and equipment operators protect your products, including:
Preventing cross contamination
Protecting proprietary information
Following and documenting processes with diligence
On site, you can perform process audits for your quality management system documentation or any specialty certification requirements your product may have. A site visit can also offer opportunities to see the broader range of capabilities within reach. You could learn, for example, that your jet milling service provider also offers contract chemical blending — all with the same focus on quality and efficiency.
What to Expect
Initial trials can usually be expected. But robust, in-depth material and process information could enable your toll processor's experts to recreate processes, potentially saving significant time and reducing your overall costs.
So the more information you can provide from the existing process, the better. Try to include:
Equipment types
Settings and conditions, including speed, temperature, pressure, and more
Time on machines
Catalysts or milling media specifications
Details like color, moisture, and other characteristics
Intended end use of product
Timelines
Quantities (weights or volumes of both raw feed and final product)
If you're uncertain about whether a new toll processor can succeed at taking over a project, it pays to talk to their technical experts about a smaller-scale run.
It's also important to realize that controlling the cost of toll processing and optimizing efficiency on your behalf is a shared best interest. Experienced toll manufacturers know it's vital to protect your product quality and your profitability. Your tolling partner's success depends on yours. So you can expect process improvements and optimization wins to be shared with you.
Learn more about the ways a trusted toll processor can add expertise to your team and help protect your bottom line. Our guide, Comparing the Benefits of Toll Processing and In-House Manufacturing, can help you assess your options. Just click the link below to download your copy.