How Liquid Bottle Filling Services Add Supply Chain Value
Gregg Shemanski, Jun 17, 2021 9:44:00 AM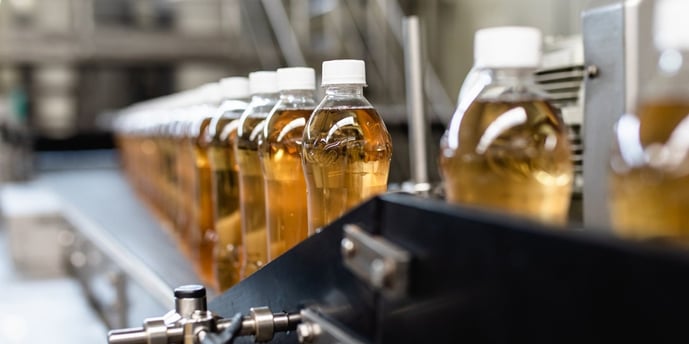 Manufacturers trust tolling partners for a range of reasons that revolve around cost savings, efficiency, and capacity.
A toll processor's capabilities become the customer's direct advantages. For example, your toll manufacturer can make capital investments on equipment, employ and train technical experts, secure required certifications and permits, and much more.
And they're accountable for meeting specifications, working with you on timelines, and looking out for your bottom line. So it makes good business sense to take advantage of value-added services to optimize supply chain efficiencies.
Liquid bottle filling and contract packaging services can deliver even more value to customers — cutting time to shelf, trimming freight miles, and reducing administrative burdens by consolidating steps under one roof.
Do you already work with a toll processor to mill raw materials and develop and blend formulations? You may discover opportunities to improve efficiency by taking advantage of automated liquid bottle filling capabilities. Products that fall within this category can include:
Liquids and liquid suspensions (aqueous, oils, alcohols)
Lotions
Creams
Emulsions
Salves
Balms
Waxes
And more
Read on to learn more about working with a tolling partner for your bottle filling and packaging projects.
Liquid Product Bottle Filling in Toll Processing
A contract bottle filling company can receive those fully formulated liquid or liquefiable products in bulk formats, fill end-user sized bottles and jars, and repackage your fully commercialized, ready-to-ship product. A tolling partner that can also provide logistical services may be able to dispatch shipments onward to your desired distribution centers, rather than back to your manufacturing or warehousing facility.
But that's not the only way custom contract bottle filling fits into toll manufacturing processes.
Say you already rely on a tolling partner for critical processes like jet milling, wet grinding, botanical extraction, product formulation, blending, emulsifying, or another critical step. If your toll processor can repackage that liquid formulation by filling bottles after your final processing step, you can realize significant savings in terms of cost, time, and efficiency.
Here are a few significant considerations and questions to ask your toll processor about their liquid bottle filling capabilities.
Liquid Container Types and Sizes
Automated bottle filling capabilities can vary, so it's vital to communicate in detail with your tolling partner about container types and sizes, product consistencies and viscosity ranges, volumes, and final applications. Some commonly available cylindrical container options include:
Bottles
Jars
Tubs
Tubes (as in lip balms and other wax-based products)
Containers are often glass and plastic, though aluminum may also be an option. Many products can be packaged in end-user formats in volumes ranging between 5.5 mL and 20 ounces. Precision filling tolerances can be especially critical for small containers.
Screw tops and lids are another important consideration. For foods and beverages, pharmaceuticals, and nutraceuticals, specialty caps like dropper bottles can be a make-or-break requirement. Not all tollers have automated bottling equipment that can handle specialty caps and lids.
Automated Bottling Capabilities to Look For In a Tolling Partner
Contract liquid bottling can fill a critical need when you need to scale up capacity fast to meet product demand. It can also help you execute limited production runs on specialty or trial products, or even remediate and repackage products. Capacity and range capabilities are both essential. In addition to high-speed, high-volume equipment, ask about:
Lot sizes
Fill tolerances
Variable speed and temperature control
NFPA Class 1 environments
In-line bottle air-cleaning, filling, capping, and sealing
Process controls that prevent spillage and product waste, especially for high-value products
Fine adjustment and control of lid torque
In-line pressure-sensitive label application
In-line printing for lot maintenance, expiration dates, etc.
cGMP Certification for Food, Pharma, and More
Some manufacturers need to look for FDA-registered and GMP-certified facilities. These can include:
Food and beverage
Over-the-counter and pharmaceuticals
Nutraceuticals
Herbal supplements
And more
Advanced bottle filling systems incorporate cGMP-validated Clean In Place (CIP) protocols to protect against cross-contamination, eliminate residue, and ensure quicker line changeovers.
Manufacturers for specialty markets may also require a bottler capable of providing organic, kosher, or halal certification, so it's essential to ask.
Another consideration is product sampling, testing, and analysis. If samples need to be pulled and tested by lot, can your bottle filler provide the service?
Thinking Beyond the Bottle
Contract bottle filling as a stand-alone service can help you meet time-sensitive and/or capacity-intensive demands. But if you need more than liquid filling and repackaging, reach out to your toll processor. Their material scientists, engineers, and specialty equipment operators can deliver the know-how to solve challenges in particle size reduction, formulation, blending, extraction, and much more.
Just click the link to learn more about custom contract bottle filling and repackaging services at CPS — including our fast, GMP-certified, automated liquid bottle filling capabilities, or contact us to start a conversation.