Why Trust a Toll Processor for Advanced Powder Coatings?
Justin Klinger, Jan 21, 2021 6:30:00 AM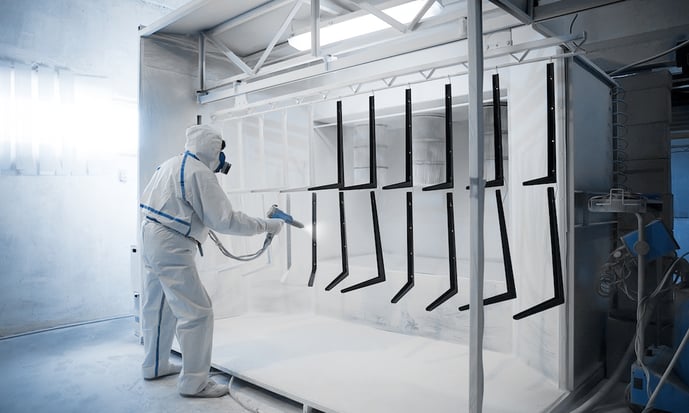 From consumer products and electronics to aerospace and automotive manufacturers, a wide range of industries rely on powder coating finishes to deliver aesthetic and functional characteristics to their products.
Powder coatings are dry, free-flowing powder blends of finely milled polymers, pigments, and additives, applied to metals and other heat-tolerant materials using an electrostatic charge or fluidized bed, and then heat cured.
A toll processor can be a vital link in your R&D and production processes for powder coatings, providing in-depth particle expertise, air jet mills and other advanced, fine grinding equipment already up and running, and decades of experience in compounding, milling, and blending.
A toll manufacturer can quickly achieve your next step. — whether that's micronizing constituent materials, compounding polymer blends, analyzing particle size and shape, or jet milling the final product to a tight particle size distribution.
End-use applications for many powder coatings demand flawless performance. And R&D experts know their formulas are only as good as their materials, processes, and quality assurance systems.
In this article, we'll explore how, partnering with a toll processor, you can efficiently produce reliably consistent, high-performance powder coatings and get them to market faster than you could on your own.
Innovations Lead the Way for Powder Coatings
Powder coating finishes give product designers and manufacturers tight control over values like color; reflectivity; gloss, matte, or metallic finishes; and textures — while delivering durable protection in harsh environments and a flawless look.
Just as important, powder coatings are often a more sustainable choice compared with solvent-based paints and lacquers. Powder coatings allow manufacturers to:
Reduce or eliminate volatile organic compound (VOC) emissions
Reduce or eliminate hazmat points in prep, application, and cleanup
Avoid toxic heavy metals
Lower their carbon footprint
Their simple application and potentially lower costs are important benefits, too.
Advanced powder coatings' functional characteristics include corrosion and chemical resistance, water repellency, conductivity, antibacterial properties, and much more. End uses can demand incredibly high performance, so formulation and manufacturing require exacting attention to specifications.
Thermoset and Thermoplastic Coatings Can Be Complex
Powder coatings generally fall into two categories, thermosets and thermoplastics. Thermoset coatings are electrostatically applied, and undergo chemical changes involving cross-linking polymers during heat curing. This strengthens the coating and bonds it to a substrate.
Unlike thermosets, thermoplastics essentially melt to mold over the material being coated. No chemical changes are involved, and the coating layer can be remelted and remolded. Thermoplastics require less energy and are often applied in a fluidized bed.
These wide-ranging properties mean powder coatings can deliver an incredible variety of thicknesses, hardnesses, decorative qualities, impact resistance, shrink-resistance, and more.
Control over a coating's properties depends on control over the formulation — and that, in turn, requires scientific expertise and tight control over particle size and morphology for every ingredient involved.
Ingredients that can be milled into fine particles and blended into powder coatings can include:
Resins – polyester, epoxy, fluoropolymer, polyurethane, acrylic, silicone, nylon, and more
Pigments – organic or inorganic, tinted or colorless
Curatives – selected to work with the specific resin blend
Extenders – aluminum silicate, magnesium silicate, silica, barium sulfate, and more
Flow and leveling agents – polyacrylates, silicones, fluorosurfactants, waxes, and more
Other additives can include accelerators, fillers, degassing agents, dry flow agents, matting and texturing agents, rheological additives, and waxes. When working with a toll processor, it's essential to provide safety data sheets (SDS) for every ingredient.
A Toll Processor Can Ensure Consistent Production of Precision-Formulated Powder Coatings
Particle sizes, shapes, and distribution ranges are of critical importance in powder coatings, affecting not only the blend's performance in the coating process, but also the long-term durability and consistent delivery of the coating's desired properties, such as:
Electrostatic charge profile
Flowability and agglomeration
Film thickness
Coverage and wraparound
Melt rate
Smoothness of finish
Chemical resistance, durability, and weather resistance
R&D scientists and engineers invest a lot in formulating powder coatings. A toll processing partner understands that investment, and delivers the same exacting process controls when scaling up production of the precisely controlled coating formulations:
1. Initial particle size reduction for constituent ingredients
Initial particle size reduction can involve jet milling, fluidized bed jet milling, cryo-milling, wet media milling and micronizing, and even drying or surface treatment steps to achieve your target particle size, morphology, moisture content, and material behavior.
2. Dry blending raw powdered materials
For dry blending, expert operators using the right equipment can make all the difference, from tumble blenders to paddle blenders and ribbon blenders. No matter the batch size, team experts make sure ratios are preserved and processes controlled, assuring quality and consistency.
3. Extrusion blending and/or compounding
Look for a toll processor with thermal twin-screw extrusion equipment — and the material science expertise to make the most of the technology — for flexibility in the process that can ensure the most precise and consistently homogenous blends possible.
4. Chipping and final milling
Processing the final powder coating into a finely milled product with a tight particle size distribution range ensures ease of application, consistent quality, and predictable performance. Once again, call on a toll processor's air jet milling expertise to achieve your target particle size and shape.
5. Particle size, range and morphology analysis
Toll processors' testing and analytical capabilities can empower process control, help your R&D process, document product quality, troubleshoot production issues, and much more.
6. Packaging of the final product
Product packaging can be critically important to protect the powder coating from cross-contamination or any potential exposure to moisture during shipping, storage, and handling.
Coordinating complex, multi-step services can be challenging; a toll processing partner with the experience to anticipate your processing needs and meet your time and efficiency goals can keep even the most challenging powder coating projects moving smoothly.
You can learn more about the milling techniques that go into producing top-performing powder coatings when you download our Milling Methods Comparison Guide. Just click the link below to get your copy. And you can always use our contact form to get in touch about a project, or ask questions about particle technology, toll processing, regulatory certifications and more.