Everything Your Toll Processor Needs to Know About Your Material
Ed Murray, Feb 18, 2021 7:00:00 AM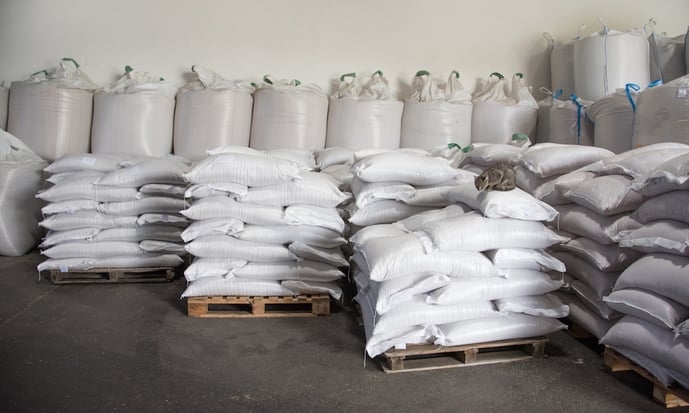 We say it all the time, because it bears repeating: The more information you share with your toll processor about your raw feed materials and your target particle specifications, the more efficiently, cost-effectively, and safely they can process your products.
The right combination of material knowledge and a deep understanding of your target particle size range, moisture, and other goals helps material scientists apply their expertise and develop the best possible process to achieve your specifications.
But even before your raw feed makes it into the hands of an engineer or equipment operator, they need to know — definitively — what they're dealing with. It's more than a matter of quality and outcome; it's about safety, too.
Individual characteristics of your raw feed affect the approach and handling of your shipment on arrival. For this reason, it's critically important for your toll processor's teams to know if your material is:
Toxic
Reactive
Combustible
Absorbent
DOT hazmat
Intended for cGMP processing
Allergenic
High-value
And more
Some raw feed materials fit into more than one of the above categories — peanuts, for example, are food ingredients (cGMP processing), and they're also potential allergens. This impacts how handlers unload, move, unpack, and manipulate products through every step of processing.
How can you give your toll manufacturer the most exhaustive information possible? And how does providing that material knowledge help your toll processor look after their team's well-being and your company's best interests?
Let's take a closer look at how a little extra effort to inform your toll processor can pay off in safety, efficiency, and potential cost savings.
A Safety Data Sheet (SDS) is the Right Start ...
Every material that moves through your toll processor's system must be accompanied by a complete safety data sheet, or SDS. The SDS communicates not only the physical properties of a material, but also hazards — physical, health, and environmental — each material may pose.
That SDS includes instructions on handling, storage, segregation requirements, and transporting safety precautions to prevent injuries and mishaps. It also includes first aid and clean-up procedures. In the event of leaking or damaged containers in a shipment, your SDS is the first place material handlers look.
In addition to a complete SDS, your toll processor needs Kst and Pmax data on your material, too. Many materials that people don't think of as potential explosion risks can in fact present a fire or deflagration hazard when milled to a fine powder, particularly during processes like milling, classifying, blending, and other procedures often entrusted to a toll processor.
Those are the most basic elements required of any material that comes through the doors. Information that goes above and beyond an SDS and explosivity data can add even greater efficiency to your materials' processing.
Material Handling Considerations & Consequences
At your toll processing partner's facility, attention to detail is everything. That's the fundamental basis for the trust in a business partnership. So before we can even begin to work to take your material to your final specifications — particle size, morphology, moisture content, blending ratios, and much more — we're responsible for protecting your raw feed, our team members, and the safety of our facilities.
Many material characteristics require special attention and handling. Here are some of the more common considerations:
Chemical incompatibility: Products are grouped and stored to segregate them from incompatible materials. This prevents reactions that could cause fires, toxic gas releases, and more. For example, alkalis are stored away from acids and organic solvents. Proper packaging protects to an extent, but segregated storage protects in case of spills or leaks.


Toxicity: Materials that pose a danger to people must be handled with appropriate care. Materials can pose hazards via inhalation or skin contact, for example, and could be an irritant or sensitizer, or could be poisonous or carcinogenic, for example. Correct and careful handling, use of PPE, and disposal procedures are all critical to safety at every step of processing.


Allergen risk: We exercise extreme care, material segregation, and equipment purging and cleaning when handling and processing allergens, to prevent cross-contamination that could pose a risk to consumers. We also need to protect anyone who handles and processes these materials from exposure to seemingly innocuous materials that can cause anything from irritated skin (as with nickel) to deadly reactions (as with eggs, peanuts, or shellfish) in some people.


Temperature sensitivity: Knowing appropriate temperature ranges enables us to protect products with high melt points, as well as products that may degrade at high or low temperatures. Warehouse conditions typically hold materials in a reasonable temperature range. If more specific ranges, such as deep freezer conditions, are needed, toll processors can procure refrigerated trailers for storing your product.


Flammability and combustibility: Handling equipment that could cause a spark or expose a material to heat is avoided. Enhanced dust suppression or inert gases may be required in processing.


Moisture sensitivity: Some materials may agglomerate and become more difficult to process when exposed to too much moisture. Absorbent materials can also be negatively affected. Even worse, some materials can have an exothermic reaction if they come in contact with water, making them hazardous or a fire risk when wet. Moisture controls and attention to storage and handling requirements mitigate all these risks, from receiving your shipment to disposal of bulk packaging.
High-Value Materials
Entrusting a toll processor with high-value raw feeds can call for extra surveillance, control, and documentation at every processing step. High-value materials can be precious or semi-precious metals or minerals, pharmaceutical active ingredients, specialty polymers, and more.
To protect customers and prevent product loss, toll processors can set up stringent material handling and quality assurance controls including log sheets, batch yield measures, and reporting.
In cases of extremely high-value products, toll processors can even return original bulk packaging and equipment purge outputs for reprocessing.
Every precaution and decision of your toll processing team is guided by our understanding of your product and our role within the full scope of your process. In this way, the trust you place in our expert teams only compounds in value: When we're better informed, we're more able to deliver exactly what you need, when you need it.
You can learn more about some of the material characteristics that can affect transport, handling, and processing by reading our Particle Technology Glossary. It's a comprehensive, alphabetical compilation of the most important terms and definitions you'll encounter when working with a toll processor. Just click the link below to download your own copy.
And our team is always ready to help with an answer to a question or a request for services. You can reach out to us quickly and easily using our contact form.