What Is Toll Manufacturing: Foods, Functional Additives, & Innovation
Justin Klinger, Nov 24, 2021 9:40:25 AM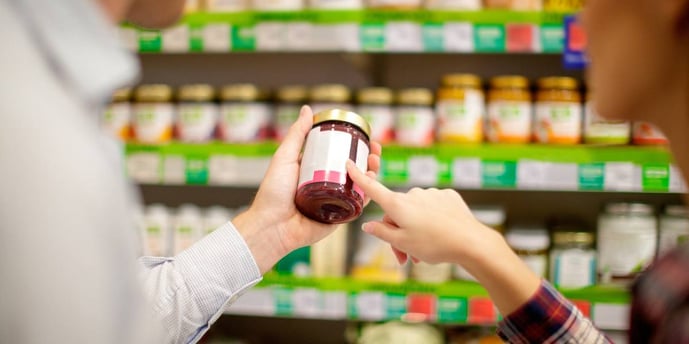 Many consumers know that food choices can affect health and well-being.
Functional foods take this idea a step further, choosing food products with an interest in more specific health-related outcomes or benefits.
The functional food industry was already growing before the COVID outbreak. In fact, it's one industry that saw consumer interest increase as a result of the pandemic.
Toll processing serves a vital role in getting quicker access to GMP certified food processing capabilities, along with the expertise needed to meet product goals and production timelines.
As consumer brands work to formulate and commercialize functional food products to meet consumer demand, it makes sense to explore working with a toll processing partner.
After all, the right contract manufacturer can boost speed to market, reduce production costs, streamline supply chains, and improve margins. Let's take a look at how toll processing supports innovation in the functional food industry.
What Are Functional Foods?
"Functional food" is not a technical term. It's the industry's designation for products that incorporate ingredients for nutritional benefits, to go a step beyond meeting basic nutrient needs and deliver potential health or wellness advantages to the consumer.
Functional foods include conventional whole foods high in nutrients, as well as processed food products that are fortified, enhanced, or enriched with nutrients or targeted, sought-after ingredients often found in supplements.
Among the examples of functional foods are calcium-fortified orange juice, omega-3 enhanced peanut butter, a yogurt drink containing prebiotic fiber, or a CBD-infused beverage. Functional foods can also include a wide array of bars, beverages, cereals, soups, and snacks.
Many of these products are used by consumers for regular health maintenance and general self-care and wellness. Other consumers buy them to address health concerns. Health claims on food products are subject to the U.S. Food and Drug Administration (FDA) rules, including qualified health claims about potential health benefits that have not been approved by the FDA.
Along with perennial concerns like weight control, stress, and aging, consumers show an interest in nutritional and wellness benefits including:
Preventing osteoporosis
Reducing risk of heart disease
Preventing dental caries
Reducing cancer risk
Preventing neural tube birth defects
Addressing high blood pressure
Functional food manufacturers face the challenge of incorporating nutrients with documented benefits into everyday foods consumers can enjoy. Those challenges can include developing consumer-pleasing recipes that include appropriate nutrient amounts while also offering appealing flavors, textures, and aromas.
A GMP-certified toll processor can help bridge the gap between functional food concepts and shelf-ready, commercialized products, with extensive experience processing challenging ingredients to meet exacting specifications.
In-Demand Ingredients Within the Functional Food Industry
Among the most common ingredients consumers look for in functional foods are vitamins, minerals, antioxidants, fatty acids, proteins, and botanical extracts.
In order to incorporate these nutrients into food products, the ingredients themselves may first need to be processed to specific particle sizes, shapes, or other characteristics. Specialized processing may be needed to get substances to blend effectively into recipes, or to improve flavor, mouth feel, texture, bioavailability, or product stability.
In addition, some ingredients can easily degrade when exposed to other ingredients in a formulation, or to light, heat or cold, or certain pH ranges. Botanical extracts, fatty acids, and vitamins can all be sensitive and need special attention to prevent degradation in processing.
Toll Processing Methods Used in Functional Food Manufacturing
The role of milling and size reduction in food processing is essential. Particle size and shape are fundamental to success with functional food formulations, since particle characteristics affect blendability, flowability, agglomeration, texture, mouth feel, color, and more.
Techniques like micronization and even nano-scale particle size reduction can help ensure smoother product texture and also enhance bioavailability of key active ingredients. That can improve margins by requiring less of a costly ingredient to achieve the desired outcome.
That's why it's important to look for a toll processor with extensive experience in food grade manufacturing, with a team of experts and a range of mechanical milling, jet milling, and wet media milling equipment within a cGMP-certified facility. Particularly challenging ingredients may need specialized processing like encapsulation or other particle surface treatments, whether to protect the ingredient for product stability, or to improve blending within the formulation.
Dry blending, extrusion, emulsifying, and dispersion are important custom food processing services to look for. A tolling partner with R&D experience can also run product trials on pilot-scale equipment and work with you on process validation for scaling up to full production.
For brands looking to meet growing consumer interest in botanical and herbal extracts such as cannabidiol (CBD), curcumin (turmeric extract), inulin (chicory extract), and others, a toll processor with botanical extraction and isolation capabilities can handle multiple processing steps all under one roof, starting with botanical biomass and taking it all the way through to the final product.
For liquid products ranging from botanical-infused beverages to omega-3 oil blends, or even animal-sourced saturated fats like ghee or beef tallow, a tolling partner with GMP-certified liquid bottle filling capabilities can get your product formulated, bottled, labeled and packaged all under one roof. That can streamline logistics, reduce shipping mileage, save time and money, and even shrink your product's carbon footprint in the process.
Quality Systems and Key Certifications
Even the most advanced technical capabilities are only worth discussing with a toll processor that can document and prove certified Good Manufacturing Practices for the food industry. GMP guidelines for food manufacturers provide a straightforward way to safeguard consumer health and safety, and ensure overall product quality.
Additional certifications can also be important. Organic, kosher, or halal certifications can help build consumer confidence and demonstrate specific brand values. If these certifications are important to your target markets, make sure your toll processor can deliver so that your products can, too.
Getting Started With a Toll Processor
Working with a toll manufacturer should streamline your operations, reduce administrative burdens, and make it faster and easier to meet your product goals. You might have a lot of questions just getting started, so look for a technical team that's willing to reach out, provide answers, and instill confidence in their expertise.
You can get started learning about some of the most important technologies and methods in food milling by downloading our Milling Methods for Food and Pharma. Just click the link below to claim your copy now.