Contract Liquid Bottle Filling: Extracts, Beverages, Balms & More
Justin Klinger, Aug 5, 2021 9:00:00 AM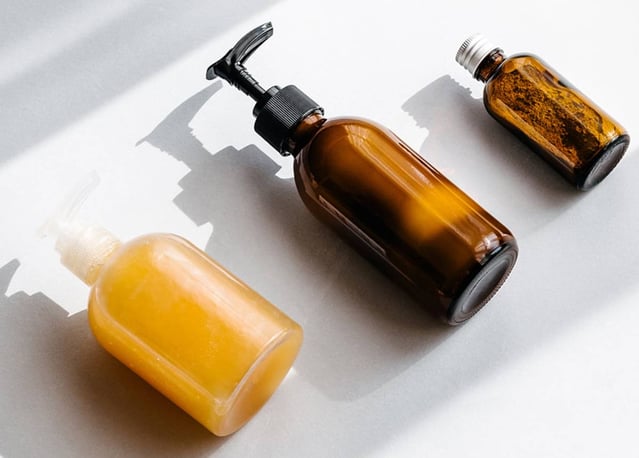 Consumer interest for specialty liquid products such as functional beverages, herbal tinctures and extracts, nutraceuticals, and supplements is steadily rising. Botanical formulations including CBD and hemp extracts are already popular with consumers, and demand for these products is only expected to increase in coming years.
As brands develop and expand their presence in food and beverage, pharmaceuticals, personal care, cosmetics, homeopathic remedies, and more, it makes sense to rely on a trusted toll processing partner for GMP liquid filling solutions.
Why?
Contract liquid filling services provided by a tolling partner add responsiveness, efficiency, and speed to your production capabilities. And when you partner with an FSSC 22000, cGMP-certified contract bottle filling company, you have the assurance of fast, clean, accurate liquid filling that minimizes risk of cross contamination.
Let's take a look at what types of products can be filled on a GMP custom filling line, and how liquid bottling can add value to hemp processing, CBD extraction, custom formulation, and other services.
What Can Be Bottled on an Automated, GMP Custom Filling Line?
The range of products that can be bottled is limited only by the capabilities of the bottle filler. Look for a tolling partner that can handle a broad range of materials, including:
Water-based liquids and beverages
Oil-based liquids, such as sublingual botanical extracts
Wax-based balms, salves, and rubs
Lotions, creams, and dispersions
Tinctures and other solvent-based products
And more
Not all contract liquid filling services providers have the capability to heat and cool and hold products at specified temperatures for liquefying waxy formulations or protecting sensitive ingredients from exposure to heat. Not all bottlers have National Fire Protection Association (NFPA) Class 1 electrical environment capabilities. So, if your product line includes solvents like ethanol or lip balms, topicals, or other formulations that are solid at room temperature, these capabilities are key.
Specialty Liquid Bottling Formats, Including Dropper Pipettes
It's not enough to know that your liquid bottler is capable of handling your formulation ingredients. You also need to be certain that they have the capability to accurately fill and cap to your container specifications. Filling accuracy down to a 0.1 gram average per lot minimizes waste and assures a high-quality packaging standard.
Look for a contract liquid bottler that can efficiently and accurately fill a wide range of container sizes, materials, and formats, ranging from 5.5 mL lip balm tubes (0.15 ounces) to 20-ounce beverage containers, in a range of heights and circumferences. If your container size and shape falls outside conventional ranges, be sure to ask about the availability of custom tooling for your particular liquid filling projects.
And don't forget to consider your sealing and capping options. Many specialty formulations for nutraceuticals, pharmaceuticals, supplements, botanicals, and more call for pressure-sensitive seals, tamper-evident sleeves, or induction seals to protect product integrity.
Lid torque should be adjustable to balance a sound closure with consumer convenience. And, for products like botanical extracts and sublingual formulations, consumers expect the convenience of pipette dropper bottle caps. Be sure your contract bottler can meet all those demands.
Automated labeling and horizontal or vertical lot information printing on cylindrical container shapes can further reduce the need for multiple vendors in your overall production, bottling, and packaging processes.
Clean-In-Place Protocols Eliminate Cross Contamination
For GMP products, look for a contract bottler with an FDA-registered facility and a quality process that meets FSSC 22000 and cGMP certification requirements. That's an important place to start, in terms of cleanliness and hygiene assurances.
Look for liquid bottling equipment with validated Clean-In-Place (CIP) protocols to assure consistent, repeatable, reliable standards to eliminate the risk of cross contamination. A pre-bottling cleaning step, such as ionized air, can add an extra layer of assurance.
Save Time, Reduce Overall Costs With a Trusted Tolling Partner & Bottler
Custom-designed bottling equipment can be directly linked to previous production steps like CBD extraction processes, blending, and dispersion services to eliminate extra logistical steps, wait times, and extra costs associated with shipping to separate bottling and packaging facilities.
Toll manufacturing services like hemp processing, hemp extraction services, and CBD extraction methods are a natural fit for liquid bottle filling capabilities. Hemp producers can take their hemp biomass all the way to formulated, blended, bottled, and labeled hemp extracts and CBD products — with a single service provider and a one-stop shop.
Customers can have a trusted tolling partner capable of completing multiple processing steps: particle size reduction, extraction, formulation, blending or dispersion, and final bottling, labeling and packaging all in one location, with a single, trusted vendor.
The result? The high-quality products consumers demand, in shelf-ready, consumer-friendly packaging — all while achieving reduced costs, turnaround times, and administrative burdens for you. Learn more about custom liquid bottle filling services at CPS, or click below to download our visual guide to custom contract liquid bottling: