Hemp Extraction Facts to Know Before You Grow: USDA Requirements for Producers
Justin Klinger, Aug 19, 2021 9:31:35 AM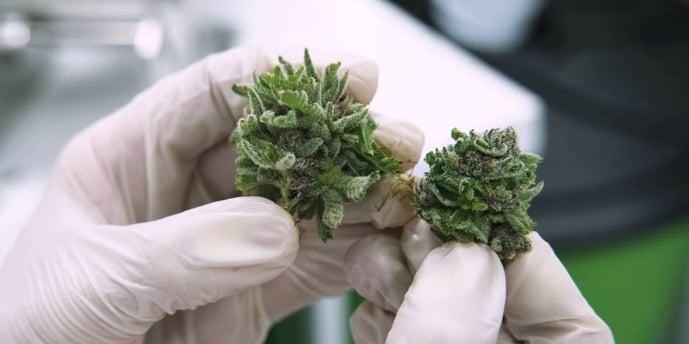 Growers and manufacturers who want to cultivate hemp and manufacture cannabidiol (CDB) or broad spectrum hemp extracts need to understand the U.S. Department of Agriculture (USDA) regulatory requirements for hemp production.
The growing of hemp was banned in the U.S. with the passage of the Marihuana Tax Act of 1937, which didn't distinguish between marijuana, the well-known cannabis strain cultivated for its delta-9 tetrahydrocannabinol (THC) content, and industrial hemp, which is is low in THC.
Industrial hemp production was experimentally reintroduced under the 2014 U.S. farm bill. The 2018 farm bill legalized hemp production at the federal level, making it subject to regulation by the USDA through the Domestic Hemp Production Program. Regulations define industrial hemp as cannabis biomass with a THC concentration under 0.3% on a dry weight basis.
But how do USDA hemp requirements impact producers? And how can providers of hemp extraction services help producers comply with federal requirements?
The fledgling U.S. hemp industry's regulatory landscape remains in flux. So manufacturers can benefit from understanding how hemp is processed and how custom CBD processing services can help ensure they meet quality and safety standards throughout the hemp extraction process.
How to Become a Licensed Hemp Producer
The USDA stipulates that industrial hemp growers need to be licensed under a State, Tribal, or USDA hemp program. Location determines which authority provides licensure, and the first step is to contact Tribal or State government. If no State or Tribe plan is in place, then growers can apply for a USDA license, subject to annual renewal.
License requirements include:
Personal information of the licensee
Business entity information (if applicable)
Criminal history report (including a complete FBI Identity History Summary) for each key participant of a business entity
Information on ownership and legal authority over the agricultural property
Applicants with a felony conviction related to controlled substances within the past 10 years cannot receive a hemp production license.
Registering Hemp Acreage with Farm Service Agency (FSA)
Crop acreage reporting is typical practice for U.S. farmers and ranchers for virtually all crops. Farmers cultivating hemp in compliance with Tribal, State, and USDA requirements should file acreage reports with FSA that include their hemp license or authorization number, share interest in the crop, crop contract information, and identifying fields and subfields where hemp is planted, including greenhouses.
Producers should also report their intended use for the hemp they intend to grow, for example:
Fiber – textiles, plastics, paper, biofuel, etc.
Grain – for hemp seed oil (not CBD), hemp hearts, and protein supplements
Seed – propagation stock and hybrids (not for human consumption)
CBD – and other valuable phytocannabinoids in resins extracted from hemp biomass
According to the USDA Hemp and Farm Programs fact sheet, "Subject to FDA regulations, resin may be used in oils, lotions, cleansers, bath, or other pharmaceutical or topical products."
Registration with FSA connects hemp producers with risk management benefits such as crop insurance, USDA loan programs, conservation, and safety net programs.
EPA Approval of Pesticides for Hemp
Since the passage of the 2018 farm bill, the U.S. Environmental Protection Agency (EPA) has approved adding hemp to the labeled use of many biopesticides and one conventional pesticide. Biopesticides are usually less toxic than conventional pesticides and often affect only targeted pests. But less toxic doesn't equal risk-free. And even when products are used properly, they can pose a risk of final product contamination with pesticide residue.
Hemp growers and CBD manufacturers should look for custom extraction experts that can also offer extensive testing and analysis, including high-performance liquid chromatography (HPLC), gas chromatography/mass spectrometry (GC/MS) testing to identify any potential contaminants including pesticides, herbicides, antimicrobials, fungicides, and fumigants.
In fact, advanced hemp extraction technologies such as supercritical and subcritical CO2 extraction, as well as molecular isolation, can exclude or remove some compounds from CBD and other hemp concentrates.
Hemp Analytical Testing Requirements
USDA regulations require that all hemp produced be sampled (by trained agents) and tested for THC content by hemp testing laboratories registered with the Drug Enforcement Administration (DEA). Plants that test over a threshold of 1% are to be destroyed using a DEA registered reverse distributor.
USDA regulations call for the use of DEA registered laboratories, but because not enough registered labs exist to serve all hemp producers, non-registered labs are allowed to provide THC testing, provided they follow USDA guidelines. After December 31, 2022, laboratories approved for THC testing must be registered with the DEA to handle controlled substances.
Emerald Test™ is an inter-laboratory comparison proficiency test for cannabis testing facilities that establishes a reliable, rigorous testing protocol to set an industry standard for hemp testing. Look for an extraction services provider with an Emerald Test certified lab.
Hemp and CBD Oil Production Can Be Complex
Along with typical risks associated with agriculture, hemp and CBD producers looking to capitalize early on an emerging market also face changing regulatory standards and the need to comply with numerous government agencies. So when it comes to CBD and hemp processing, it's key to work with a custom extraction expert that really understands how to process hemp.
By partnering with a hemp toll processor, CBD manufacturers can minimize complexity. Quality management systems establish visibility into how your hemp is processed and mark a clear path from biomass to bottled, shelf-ready CBD and hemp extracts. Look for a toll manufacturing partner with experience in hemp and capabilities that include:
Drying and milling
CO2 and solvent extraction
Distillation
Molecular isolation
Formulation and product R&D
Blending and emulsifying

Liquid bottling

and packaging
Certifications including cGMP and organic
Analytical testing and reporting
And more
The more you can rely on a tolling partner's expertise for the processes that transform your USDA-compliant hemp biomass into your final product, the more efficiently and easily you can capture your share of a hemp industry that's expected to grow by leaps and bounds over the next decade.
You can learn more about the fundamental technologies and methods involved in extracting valuable compounds from herbal and botanical products with our ebook, Processing of Herbal Raw Materials: An Essential Guide to Botanical and Herbal Extraction Processes. Just click the link below.