Top 5 Herbal Extraction & Processing Technologies You Should Know
Ted Granbois, Jul 22, 2021 8:30:00 AM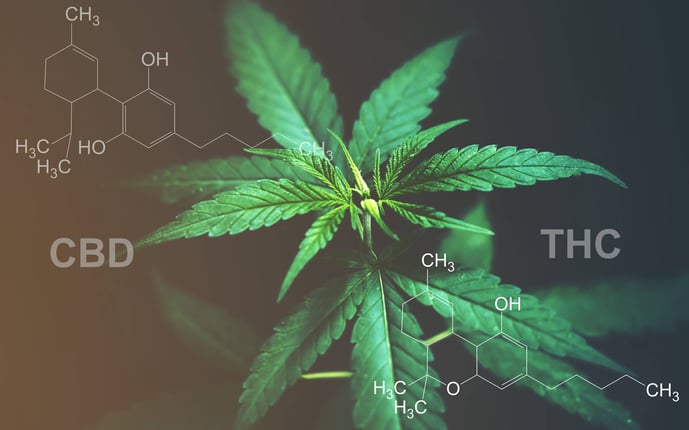 The global market for plant extracts is currently valued at $30.8 billion, and a compound annual growth rate (CAGR) of 6% is projected to drive it up to $55.3 billion by 2026.1
The global CBD market, on the other hand, is expected to grow at a CAGR of 21% between 2021 and 2028.2
Health-conscious consumers are the source of rising demand for natural products like essential oils and herbal extracts from the processing of herbal raw materials. These include hemp oil and cannabidiol, or CBD extract, and essential oils such as lavender, lemongrass, and many others.
Botanical extracts and essential oils provide flavors and aromas, and many are the subjects of research to identify potential health benefits. This potential also drives demand for herbal extracts as active ingredients in herbal medicines, nutraceuticals, dietary supplements, functional foods, veterinary products, and more.
In order to capture and concentrate the beneficial bioactive compounds in plant biomass, manufacturers rely on specialized herbal processing and extraction technologies. Different extraction methods are suited for various plant materials and target biochemicals.
Pre- and post-extraction processing techniques can be just as vital to the process of achieving a high-quality botanical extract, blending to create a commercialized product, and getting it bottled, packaged, and ready for target consumers.
In this article, we'll cover the 5 most important technologies used in the processing of herbal materials, including:
CO2 extraction methods
Falling film distillation
Decarboxylation
HPLC and GC testing and analysis
Automated bottling
1. CO2 Extraction
The rising demand for industrial hemp and the proliferation on the market of CBD products have increased demand for supercritical and subcritical CO2 extraction methods. Both subcritical and supercritical carbon dioxide serve as a highly "tunable" solvent that can be manipulated to target specific components in the plant biomass without exposing delicate compounds to high temperatures.
After extraction, the carbon dioxide evaporates, leaving a residue-free crude extract.
While CO2 extraction is in extreme demand for CBD processing, it is also useful for other herbs. Other good herbal candidates for CO2 extraction include florals such as lavender and jasmine, as well as aromatics like sandalwood and patchouli.
2. Falling Film Distillation
This process is used to gently concentrate a targeted substance and separate unwanted constituents, typically under vacuum conditions. Like CO2 extraction, this distillation method is suitable for temperature-sensitive compounds.
When CO2 is used with an additional solvent modifier such as GMP-compliant ethanol, a distillation process such as falling film distillation is needed to remove and reclaim the solvent. This produces a solvent-free botanical extract, and the ethanol can be reused.
3. Decarboxylation
Decarbing is an essential step in hemp and CBD processing, necessary for converting phytocannabinoids from the acidic forms in the raw plant to their bioactive forms that make them available to the human endocannabinoid system when consumed.
Hemp's valuable component, cannabidiol, exists as cannabidiolic acid (CBDA) in its natural state. After extraction, and subsequent distillation if solvent modifiers are used, the crude is exposed to specific temperatures, for an optimal period of time, to break off the acid from the CBDA, leaving CBD.
4. HPLC & GC Testing & Analysis
High performance liquid chromatography (HPLC) and gas chromatography (GC) are must-have quality control testing capabilities for herbal extraction processes.
Botanical extracts are products of plant biomass, and potential contaminants can include pesticides and other chemicals, heavy metals, and residual solvents. The extraction process can create a risk of concentrating contaminants in the extract form — which flies in the face of the health-conscious ideal of consumers for these products.
Consumers also want to know as much as possible about product potency. HPLC analysis can identify, isolate, and measure concentrations of the various constituents of an extract, and GC can detect undesirable residual solvents.
Finally, because tetrahydrocannabinol (THC), another compound found in some cannabis products, is illegal at the federal level, CBD and hemp products sold in most states must not include THC at a concentration above 0.3%. Both the raw biomass and the final product are tested to ensure regulatory compliance. HPLC testing can verify compliant and non-detectable THC concentrations.
5. Post-Processing & Automated Bottling
Consumer demand is the driving force behind the growth in herbal and botanical extracts, so the quicker and more efficiently those extracts can be blended into formulations, bottled, and packaged, the sooner they can capture market share.
Many toll processors can perform extraction techniques and return high-quality crude to the customer, often in bulk formats like pails or jugs. That leaves the customer with the tasks of formulating, blending, bottling, labeling, and packaging before final products are ready for consumer purchase, where they can command the greatest margin.
A toll processor with all these capabilities, plus scientific expertise under one roof, can help producers get from biomass to bottled extract in less time, with greater efficiency and a smaller energy footprint, while achieving cost savings by eliminating extra logistical and shipping steps.
But be sure to look for an FDA-registered facility that includes GMP-certified production lines, quality systems including FSSC 22000 and ISO 9001 certifications, and certified analytical testing (such as Emerald Test for CBD and hemp products).
Learn More
You can take a deeper dive into the sciences and technologies behind herbal and botanical extracts when you download our white paper, Processing of Herbal Raw Materials. You'll learn about historical uses of botanical extracts, current state-of-the-art extraction techniques, and much more. Just click the link below to download your copy.
SOURCES:
1 Markets and Markets, Plant Extracts Market by Type (Phytomedicines & Herbal Extracts, Spices, Essential Oils, Flavors & fragrances), Application (Pharmaceutical & Dietary Supplements, Food & beverages, cosmetics), Sources, and Region - Forecast to 2026.
2 Research and Markets, Cannabidiol Market Size, Share & Trends Analysis Report by Source Type (Hemp, Marijuana), by Distribution Channel (B2B, B2C), by End-use (Medical, Personal Use), by Region and Segment Forecasts, 2021-2028.