You ask, we answer: Top 5 questions about jet milling
Justin Klinger, Oct 4, 2023 8:45:00 AM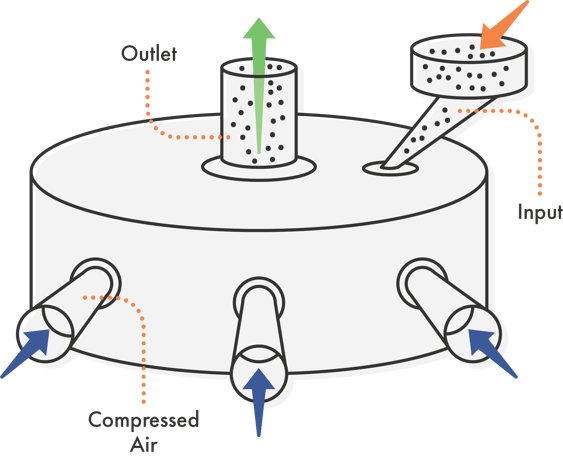 Jet milling applications are numerous and span many industries — automotive, industrial, pharmaceuticals, food & beverage, and more.
The versatility and value derived from this toll processing method are helpful in obtaining desired particle size reduction goals and driving innovation. Many manufacturers turn to CPS for insights about leveraging jet milling technology to their best advantage.
We're happy to share our jet milling expertise, and have compiled 5 questions our team hears and answers most frequently. If you have a jet milling question that didn't make our list or want to discuss any information provided in greater detail, please contact CPS. We're here to guide you to informed decisions and successful outcomes.
Top 5 Questions About Jet Milling:
What makes jet milling a good choice for particle size reduction?
Can any type of material be jet milled?
How do I determine which jet mill is right for my toll processing needs?
What information does a toll processor need to determine if they can take the project?
How can jet milling expertise help me save time and money?
1. What makes jet milling a good choice for particle size reduction?
Jet milling is a good fit for micronization — that is, achieving average particle sizes in the 1- to 10-micron size range. With carefully controlled power and feed rate settings, jet mills can also produce particle sizes larger than 10 microns should a formulation require it.
Jet milling technology provide manufacturers in all industries with several key advantages:
Consistently low grinding temperatures allow for the processing of heat-sensitive materials and those with low melting points
Efficient production cycles that combine grinding and collection processes to maximize line time
Virtually no contamination risk because there are no mechanical mill components and related wear, the simple and easy-to-clean mill chamber design, and cGMP directives that require toll processors to manage equipment cleaning, product changeovers, and cleanroom environments to exacting standards
Increased surface area and particle size uniformity promote even distribution and enhanced product performance
2. Can any type of material be jet milled?
The characteristics of a material determines if it's suitable for jet milling. Those that are abrasive, brittle, dense, hard, and/or friable respond best to jet mill particle size reduction. Materials that are elastic, wet, sticky, fluffy, easily deformed, shock absorbent, and/or difficult to accelerate are not ideal candidates. Their particles tend not to fracture into smaller pieces during high-velocity collisions generated within the jet mill.
3. Fluid bed? Spiral? How do I determine which jet mill is right for my toll processing needs?
The beauty of working with a toll processing partner is that you don't need to make equipment decisions on your own. Experienced toll processors have both fluid bed jet mills and spiral jet mills in their facility, with use overseen by milling and materials experts.
To clarify why there are two types of jet mills to choose from, this brief overview may help.
Spiral Jet Mills
In a spiral jet mill, raw material is fed into the grinding chamber where high-speed, nozzle-fed gas accelerates the particles. The particles collide and fracture, eventually achieving a particle size range that is less affected by centrifugal force and align with the goal size range.
Spiral jet mill settings are adjusted to allow right-sized particles to migrate toward the middle of the grinding chamber and escape via a central outlet. This is called static air classification, and it is often sufficient for superfine grinding or micronization of many friable or abrasive materials.
Fluid Bed Jet Mills
Some jet milling applications require greater particle fineness and/or tighter distribution than what spiral jet mills can achieve. Fluid bed jet mills are often the solution for nanonization.
Fluid bed jet mills force jets of compressed air or gas through a membrane or perforated plate at the bottom of the grinding chamber. The upward force of the air or gas is adjusted to meet the downward force of gravity, suspending particles within the grinding chamber and causing them to behave like a liquid or gas (or fluidization).
Fluidization mobilizes fine particles into a deflector-wheel air classifier wherein dynamic air classification takes place. Essentially, three things happen: (1) excess fines are eliminated from the milling process; (2) particles of the desired size are transported out of the grinding chamber, and (3) larger particles are returned to and recirculated in the grinding chamber until they reach the desired size range.
4. I have raw materials I need jet milled. What information does a toll processor need to determine if they can take the project?
A toll processor's technical team is responsible for ultimately creating the jet milling process specific to your needs, including selecting the appropriate jet mill type, feed rate, milling speed, etc. Information you provide during initial conversations is valuable, including:
Safety Data Sheets (SDS) for all materials to be milled
Particle size of the feed material
Target particle size of the product
Material characteristics (

combustible powder

, abrasive, etc.)
Product next steps: collection, return, or forwarding for additional processing
5. How can CPS jet milling expertise help me save time and money?
As a jet milling expert and "the architects of what's possible," CPS is committed to optimizing the jet milling process to our partners' best advantage. Working with our team provides efficiencies and capabilities that leverage our expertise to save time and manage costs:
Proven process modifications that logically improve jet milling outcomes and streamline the overall project
Consolidated processing that combines grinding and particle classification steps
In-depth, in-house applied knowledge of material scientists and engineers that drives data gathering and analysis for raw feed trials and pilot runs, with and sometimes without physical testing
Sample testing and particle size analysis that guides and verifies materials selection, grinding specifications, and consistent jet milling repeatability
The CPS team is always ready to provide the answers and assistance you need to make informed decisions about your projects. These brief FAQs provide a glimpse of the insights you'll find in Jet Milling Services Fundamentals: A Manufacturer's Guide.