You ask, we answer: Top 5 questions about toll processing
Justin Klinger, Oct 25, 2023 1:57:32 PM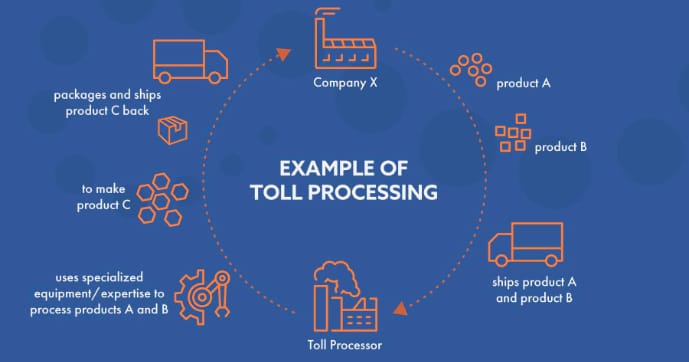 As the preferred partner to manufacturers across a range of industries, CPS toll processing expertise is sought after and respected. Our team often fields questions about toll processing methods, benefits, and opportunities.
We enjoy discussing what we do because our toll processing experience is matched only by our passion for it. To that end, the CPS team gathered the top five toll processing FAQs and are sharing their insights here.
Don't see your question or want more information about something you read? Contact CPS. As the architects of what's possible, we're excited to explore what's possible for you.
How does working with a full-service toll processor benefit my business?
What industries are best suited for toll processing?
Does CPS have experience processing my specific raw material?
Can I keep my toll processing in-house?
Do you have any resources that explore toll processing?
1. How does working with a toll processor benefit my business?
Leveraging toll processing experience is the short answer to this question, but it's incomplete. Choosing to partner with a toll processor that offers end-to-end solutions (referred to as a "full-service toll processor") gives your business decided cost and competitive advantages, including:
Capital investment savings since the toll processor assumes all equipment, space, and

overhead costs

Responsiveness and flexibility to scale up or down to meet any market need
Significant technical expertise — including material science and specialty equipment mastery
Process customization to realize upstream and downstream value, from assistance sourcing raw materials to packaging and shipping finished products
Consistency through detailed process documentation, analysis, and certifications
2. What industries are best suited for toll processing?
Toll processing is versatile, and it's a common practice many diverse markets such as:
Aerospace and automotive
Coatings and inks
Ceramics
Batteries/EV technologies
Industrial materials, specialty chemicals, and petrochemicals
Food
Pharmaceuticals
Essential oils
This list is a great representation of the industries that most frequently use toll processing services, but it isn't inclusive. It's best to check with your toll processor to ensure they have the requisite experience and capabilities for your market.
3. Does CPS have experience processing my specific raw material?
With decades of experience as a custom toll processor, we've worked with thousands of raw materials so chances are pretty good that CPS has encountered yours.
If we have successfully processed your material in the past, we're able to consult our previous process documentation to discern a logical starting point. If not, CPS delves into research.
Starting with a Global Harmonized System (GHA) compliant Safety Data Sheet (SDS) on the material in question, the CPS technical team documents key technical insights such as initial particle size, bulk density, moisture content, combustibility, allergen information, and more.
Collaboration with your team helps discern material properties, particle size goals, and any potential challenges. From there, equipment trials including small-scale feasibility testing and larger-scale pilot runs are performed to align materials, equipment, and the most efficient processing approach.
4. Can I keep my toll processing in-house?
In-house toll processing is any company's prerogative, provided you have the appropriate equipment, staffing, capacity, and time to execute the project. However, it's prudent to proceed with caution.
Without the guidance and expertise of a toll processing partner, you could be sacrificing:
Consistent

quality control

Production capacity and adaptability to scaling
Coordination of packaging, labeling, shipping, warehousing, and other logistics
Access to specialized equipment, engineers, and operators
Assurance of regulatory compliance and other

certifications

such as cGMP
5. Do you have any resources that explore toll processing?
The CPS team is happy to discuss any questions you may have about toll processing and it's easy to reach them using our contact info.
We also have an online resource library that provides anytime access to comprehensive downloads, including:
And if you read our other You Ask, We Answer blog articles on jet milling and battery powder production, you may also be interested in:
These brief FAQ answers likely piqued your curiosity about toll processing and how you can leverage it for your business. Dig into the details in our eBook, Comparing the Benefits of Toll Processing and In-House Manufacturing. Click the button below to download your copy.